Camps Pizza, Pasta, Honey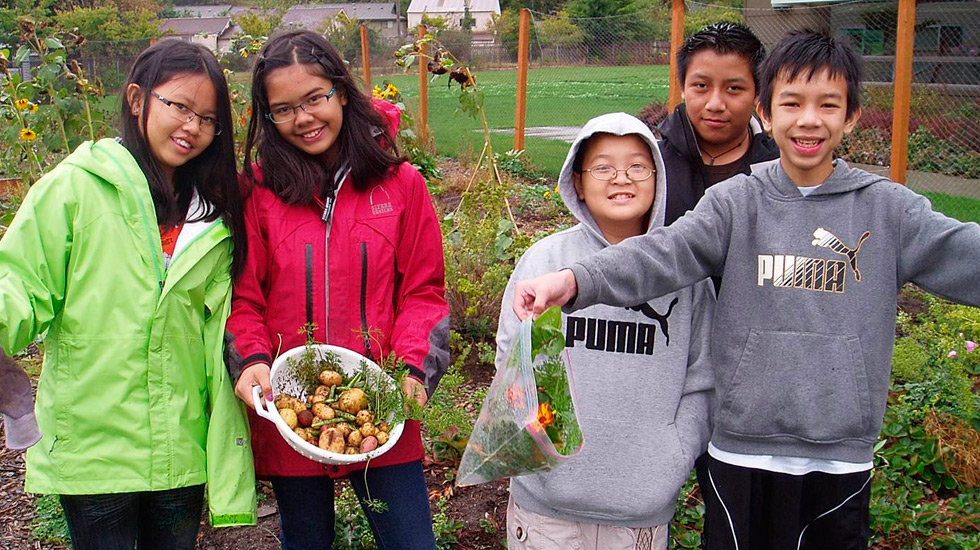 Camp Honey (for kids currently in 3rd-5th grades; or going into 4th-6th in the 2018-2019 school year)
Let's talk about pollinators this Spring! Join us as we explore The Outback at WWU, looking for signs of Spring and identifying pollinator habitats — including the honey bee hives located on the south end of the farm! In addition to planting, harvesting, cooking and eating some delicious lunches, our special focus will be on learning about the important role that bees and other pollinators play in the garden.  And the buzz is that at least a few of the snacks prepared will feature honey!
Camp Pizza (for kids currently in 3rd-5th grades; or going into 4th-6th in the 2018-2019 school year)
Why not start the conversation about healthy food by delving into the story of some old favorites? Join us as we go from soil to grain to flour to dough; from milk to cheese; from seeds to veggies to garden-fresh sauce!

 Using well-loved foods as our organizing theme, we invite your child to put on the hat of a "food scientist" and investigate the behind the scene stories of where our food comes from. This program culminates with delicious kid-grown pizza and also with a chance for kids to run their own farm stand. Includes several walking field trips. Gluten free options?  Of course!
Camp Pasta (for kids currently in 3rd-5th grades; or going into 4th-6th in the 2018-2019 school year)
Pasta – who doesn't love it?  Spaghetti, Linguini, Ravioli… what's the story behind all those crazy shapes and sizes? And how about those yummy sauces? Could we make our own marinara or pesto straight from the garden? Through careful observation and experimentation in the garden, in the kitchen, and on field trips, we will explore pasta as well as a number of other delicious, healthful foods.  The week culminates in a home-grown pasta feed. Gluten free options? Of course!
Food Investigators 4-day camp (for kids currently in 3rd-5th grades; or going into 4th-6th in the 2018-2019 school year)
This field trip based camp is for kids who are curious to know the story of where food comes from. Get ready to ride the bus; visit farmers, farmers markets and grocery stores; and pull out the world map.  Whatever it takes to tell the story of where our food comes from!
Programs must have a minimum of 6 participants to run.
Activities and field trips for each of these camps are different – families sometimes ask if it's possible/appropriate to sign their kids up for multiple sessions. Our answer? Of course! 
Visit our FAQ's page if you have any questions!
Signing up siblings for camp? For your first child select "1 Child" and for your second (or third, fourth, etc.!) select "1 Sibling" for the discounted price. If you have a child in a different camp during the SAME WEEK (e.g. one in Farm Camp, one in Preschool) you can select "1 Child" for one of the camps and "1 Sibling" for the other camp to still receive the discount. Sibling discount is only applicable for a registration fee of an equal or lesser value.
Scholarships: We offer need-based scholarships. To apply for a scholarship click here
Note 1: The Outback is located at WWU across from the Arboretum — just south of the Fairhaven Residences between 25th St. and South College Way. From Bill McDonald Parkway, take 25th Street up the hill. Staff will be waiting at a trailhead on the west side of 25th Street at the intersection with Arboretum Drive. This is the only pick up and drop off location.  Please do not bring your children to other places, it makes it hard to keep them safe and accounted for!
Note 2: A confirmation email with further information will be emailed to the address you provide. If you don't receive it right away please check your junk mail folder – contact us if you don't see a confirmation: info@commonthreadsfarm.org or 360-927-1590