Internships
Seed to Table Internships
Seed to Table Interns help Common Threads connect kids to healthy food in the garden, in the kitchen, and at the table.
Interns will work with Common Threads AmeriCorps and/or staff members to plan and implement a variety of cooking and gardening programs at either our school partner locations (Fall, Winter and Spring) or at our Summer Farm Camp, Camp Pizza, and Camp Pasta programs at The Outback Farm. Here is a sample of what is involved during each season: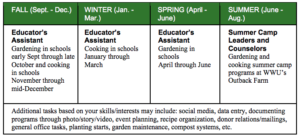 To apply for a Common Threads Seed-To-Table internship, please submit a cover letter and resume to jessica@commonthreadsfarm.org.
In the 
cover 
letter
 you should address
your specific interest in Common Threads,
your goals for the Seed-To-Table 

internship, and

the experience you hope to gain.
If the internship is connected to a college program, include how the internship connects to and will enhance your current major/area of study.
Also include the number of hours you are looking to dedicate to the internship (include weekly goal and total for the quarter), and your anticipated availability (times and days of the week). The majority of these hours should be during our program hours (Mondays-Thursdays during the school day).
For more information about volunteer opportunities, take a look at our
volunteer page
.