SPRING BREAK & SUMMER CAMP PROGRAMS
Camp registration is open!
Our spring break & summer camps in Bellingham, WA connect kids to healthy food in the garden, in the outdoor kitchen, and at the picnic table! Common Threads' Food Educators run both Spring Break and Summer Camps at The Outback, a beautiful farm and forest area located on the Western Washington University campus. Camps include a combination of exploring and appreciating nature, gardening on the farm, and preparing healthy snacks with some of the produce we find on the farm. Camps for older elementary students may also include field trips.
PLEASE READ OUR PLANS FOR COVID-19
Spring Break & Summer Camp options: 
Preschool in the Garden for ages 3-5: Monday-Friday 9am-12pm (half day) $165/week
Farm Camp for ages 5-8: Monday-Friday 9am-3pm (full day) $235/week
Camp Pizza or Pasta for ages 8-12: Monday-Friday 9am-3pm (full day) $235/week
*Before Camp Care is from 8:00am-9:00am for an additional $50/week. Must register for the full week only.
Camps are planned to best meet the developmental needs of a specific age range, and so we can't make any special exceptions if your child is outside of the age range for a particular camp. If your child is on the edge of the age limits (e.g. age 5 or age 8), you can make the call about which camp might work best. We've found that in order to be successful, Farm Campers need to have been in kindergarten or some equivalent full-day experience.
Current Offerings:
Spring Break Camps in Bellingham: CANCELED DUE TO COVID-19
Farm Camp: Spring in the Garden (April 6-10, 2020)
Preschool in the Garden: Pollinators & Petals (April 6-10, 2020)
Before Camp Care (April 6-10, 2020)
Summer Camps in Bellingham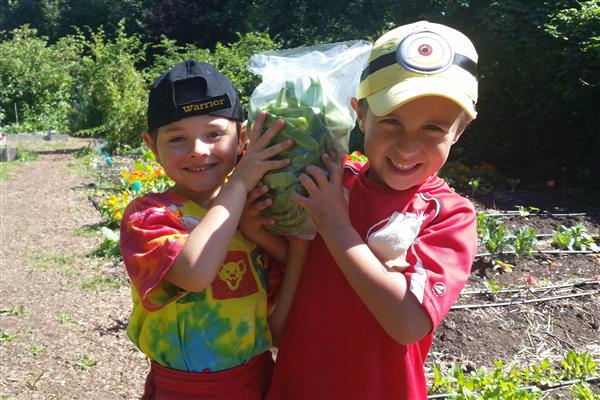 My budget is pretty tight right now, but I'd love to send my child to your program. Do you have scholarships?
Yes! We are strongly committed to making sure camps are accessible to all. Scholarship applications will be accepted when camp registration opens in February. 
Do I have to create an account?
No. But if you create an account, future registrations will be faster.
What is the minimum number of kids required to run a program? What happens if it is not met?
We require a minimum of 6 kids to run program. If there are not enough kids, we will either merge the camp with another one (during weeks when we have multiple camps running) or we will cancel it and transfer your registration to another week. If you can't attend a different week, we will refund you in full.
What happens if a camp is full? How can I join a waitlist?
If a camp is full, you will be given the option to sign up on a waitlist. You proceed as if you are actually registering for the camp, but you do not submit a payment. If a space opens up, you will be notified by someone on our team and can make a payment over the phone. If you prefer, you can also be added to the waitlist by phoning us.
Do you offer any sibling discounts?
Yes, we offer a sibling discount. There are different ticket options for siblings when you complete the registration form. The sibling discount is only applicable for a registration fee of an equal or lesser value.
There were a lot of snow days this year. Will you be starting later?
If the last day of school is pushed back due to snow days, our camp start dates will reflect this change. We may end up with a 3 or 4 day rather than a 5 day week of camp. If this happens, we will pro-rate the week's cost and refund the difference to anyone who has already signed up. Watch our camp page for updates. 
Does my child need to be potty trained? What's the bathroom situation?
Yes, we ask that all children are potty trained. We schedule bathroom breaks, and use a port-a-potty or the bathrooms at the nearest campus building. 
My child is a little young/old for your recommended ages, can she still participate?
These decisions are made on a case-by-base basis, taking into consideration the child's past camp experiences and maturity level and the space available in the desired camp. Please contact us.
What's your adult to student ratio?
In Preschool in the Garden the ratio is 1:4 and in all other camps the ratios is 1:6
How do you accommodate campers who have disabilities?
We have successfully accommodated campers living with a disability, and are committed to ensuring that camp is accessible. Please contact us before registering to discuss the details of your child's disability to ensure that we will be able to provide them the support they need at camp.  
Where can I find more information about camp?
What is your rain/inclement weather policy?
We run camp rain or shine! To learn more, please read our Camp Handbook.
What is your cancellation/Refund policy?
Where is your summer program located? Is there parking?
Camp is located at the Outback Farm at WWU, just south of the Fairhaven Residences between 25th St. and South College Way. When going along Bill McDonald Parkway, turn north on 25th St. (up the hill) towards the Arboretum. Limited parking spots may be available along 25th St or at the entrance of the Arboretum. Please read our Camp Handbook for more information.