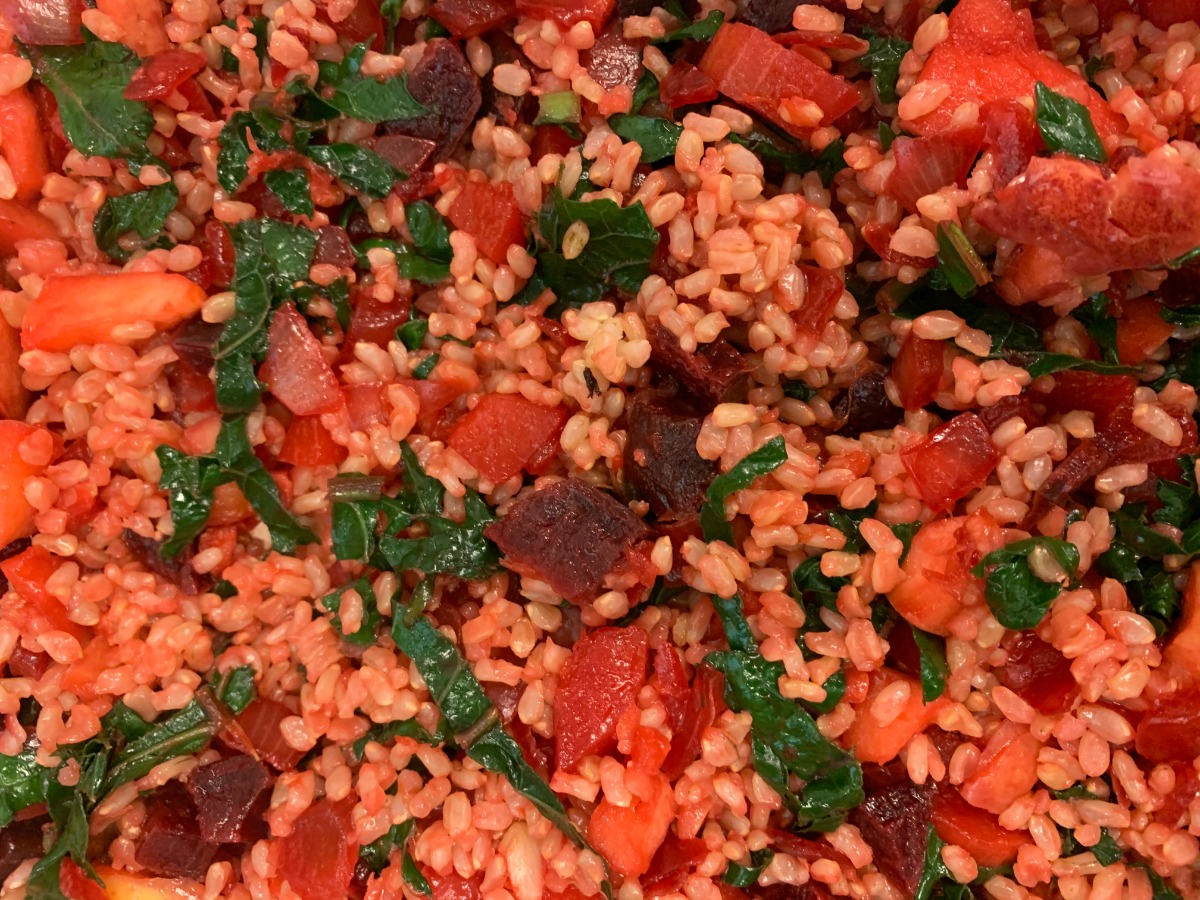 Serves/ Sirve 6
Ingredients:
4 cups cooked brown rice (= 1 cup
uncooked rice)
1⁄2 cup squash, diced
1⁄2 apple, diced
1⁄2 beet, diced
1⁄2 onion, diced
2 cloves garlic, minced
4 leaves kale or chard
2 TBSP olive oil
4 tsp lemon juice
1⁄8 tsp pepper
1⁄2 tsp salt
1-1 1⁄2 cups water
Ingredientes:
4 tazas de arroz integral cocido (=1 taza
de arroz integral seco)
1⁄2 taza calabaza, cortar en cubitos
1⁄2 manzana, cortar en cubitos
1⁄2 remolacha, cortar en cubitos
1⁄2 cebolla, cortar en cubitos
2 dientes de ajo, picado
4 hojas de col rizada o acelga
2 cucharada aceite de oliva
4 cucharadita (cdta) de jugo de limón
amarillo
1⁄8 cdta de pimienta
1⁄2 cdta de sal
1-1 1⁄2 tazas de agua
Directions:
Wash hands. 

Dice squash, apple, onion, and beet. Mince garlic.  Chiffonade kale or chard. 

Heat oil in skillet on medium-high heat.  Add onion, squash, beets, and garlic and sauté 3-5 minutes. 

Add 1 cup of water and simmer until veggies are soft (about 8 minutes). Stir occasionally and add more water if necessary to avoid burning. 

While veggies cook make the dressing: measure olive oil, lemon juice, salt, and pepper into small bowl and emulsify. 

Add kale/chard and apple to the skillet and saute for 3 minutes. 

Add cooked rice and mix together with sauteed veggies until warm. 

Turn off heat and add in dressing, toss lightly. Serve and enjoy!

 

Bon Appetit! 
Direcciones:
Lávate las manos.

Cortar la calabaza, la manzana, la cebolla, y la remolacha en cubitos. Picar el ajo. Cortar la col rizada o la acelga en tiras.

Calentar el aceite de oliva en una sartén. Agregar la cebolla, la calabaza, la remolacha y el ajo y saltear por 3-5 minutos.

Agregar 1 taza de agua y hervir a fuego lento hasta que las verduras son blandas (8 minutos, más o menos). Revolver de vez en cuando  y echar más agua si es necesario para evitar quemarse.

Mientras las verduras cocinar, hacer la salsa: medir el aceite de oliva, el jugo de limón amarillo, el sal y la pimienta en un bol pequeño y mezclar. 

Agregar la col rizada/acelga y la manzana al sartén y saltear por 3 minutos. 

Agregar el arroz  y mezclar con las verduras hasta que son cálidas.

Apagar la cocina y echar la salsa. ¡Disfrutar!