Registration open for Summer Camps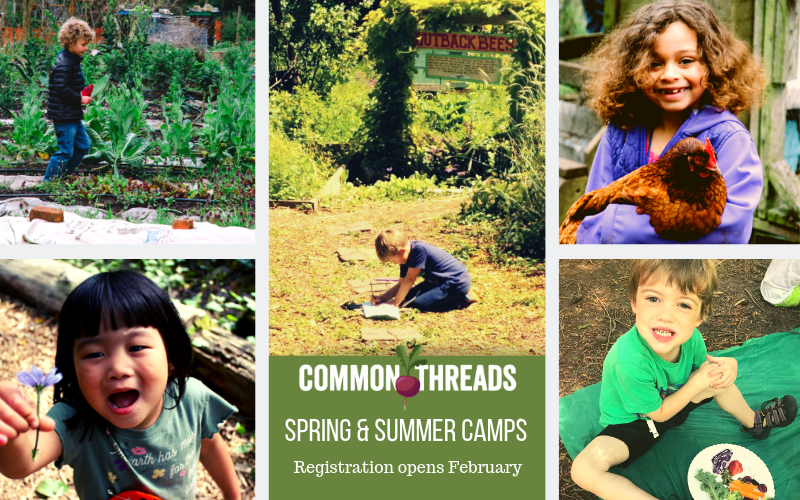 Spring Break and Summer Camp Programs at Common Threads
Registrations and scholarship applications are now open! 
EDIT: We've added some additional camps in the later half of summer for kids in elementary school!
Sign up for our camp email list for any registration updates.  
Our spring break & summer programs connect kids to healthy food in the garden, in the outdoor kitchen, and at the picnic table!  Common Threads' Food Educators run both Spring Break and Summer Camps at The Outback, a beautiful farm and forest area located on the Western Washington University campus. Camps include a combination of exploring and appreciating nature, gardening on the farm, and preparing healthy snacks with some of the produce we find on the farm. Camps for older elementary students also include field trips. 
Please download the Common Threads 2019 Camp Information for Registrants for all logistical details.
Scholarships:

We are strongly committed to making sure camps are accessible to all. Information about financial aid can be found on our

scholarship page here

. Scholarship applications will be accepted once camp registration opens in February.

Registration:

Please consider creating an account so that you can log in and make future camp registrations easier for yourself.

Waitlist:

We require a minimum of 6 kids to run program. If a camp is full, you will be given the option to sign up on a waitlist. You will be notified if a space opens up.

Sibling discount: If you are enrolling siblings at the same time,

select "1 Child" for sibling #1 "1 Sibling for any sibling #2 (or 3 or 4, etc.). Th sibling discount is only applicable for a registration fee of an equal or lesser value.

Later summer start date due to snow days: Camps for kids in elementary school will start the week of June 24th due to the last day of school in Bellingham being moved to June 20th. We will still run a Preschool camp the week of June 17th.
To register, click on the camp week below that you are interested in:
2019 Offerings
Preschool in the Garden
Ages 3+ (for kids not yet attending Kindergarten)
*Participants must be potty trained
Mondays-Fridays 9:00am-12:00pm
$165/week
Kids will explore the garden using all of their senses, and help make yummy snacks fresh from the garden. And of course, we will visit the chickens. Count on dirty hands and silly stories!
Farm Camp
For kids currently in K-2nd grade (or entering 1st-3rd grade in September 2019)
Mondays-Fridays 9:00am-3:00pm
$235/week
Join us as we plant and tend vegetables, prepare delicious food straight out of the garden, visit with chickens, and learn through hands-on exploration and experimentation.
Camps for older elementary kids
For kids currently in 3rd-5th grade (or entering 4th-6th grade in September 2019)
Mondays-Fridays 9:00am-3:00pm
$235/week
These camps take Farm Camp a step further and explore the origins of where some of our food comes from. How do you make the dough for pizza or pasta? What about cheese and tomato sauce? Where do different spices come from? Field trips are included throughout the week – past locations have included Bellingham Pasta Company, local pizza makers, the Community Food Co-op, Drizzle, Bellingham Food Bank and more.