OUR MISSION, VISION & VALUES
Founded in 2007, Common Threads is a Bellingham, WA based non-profit that promotes a seed-to-table approach to gardening, nutrition and environmental stewardship.
Our Mission: Common Threads connects kids to healthy food in the garden, in the kitchen, and at the table. We want kids to grow up making food choices that are good for their bodies, their communities, and the environment.
Our vision is of a world where:
Adults make choices that set kids up for a life of healthy eating
All children have the resources, information, and experiences needed to make healthy food choices every day
Learning about and eating healthy food is understood as an integral part of any education
Most of our programs take place on public school grounds, during the school day in collaboration with classroom teachers and food service staff. Additionally, Common Threads runs after-school and summertime gardening and cooking programs.
Our values: 
At Common Threads, the following core values guide our work and service, and inform our policies, procedures and the way we interact with each other. 
Serve
We are guided by the question,

"how can we help?"

We all pitch in

We believe and behave as though service is love made visible. While we count our hours, we hold ourselves accountable to service
We serve as ambassadors – understanding that we represent both ourselves as individuals and Common Threads as an organization
We are mindful of our legacy, planting seeds in gardens and in people's hearts and minds that we may never get to see
Nourish
We

nourish the lands

that we grow food on

We nourish relationships (with kids, community partners, and each other) through clear, respectul, timely communication. Whenever possible, we call people in rather than call them out
We nourish ourselves and pace ourselves through the cycles of the season; giving our all when that's needed, while also making sure we have the energy for "mile 26 of the marathon"
We nourish each other by practicing gratitude and recognition.We take time to say things like "yay!",  "well done!" or "happy birthday!"
We nourish our AmeriCorps service members through training and professional development to plant a seed for their future opportunities
Strive 
Ours is a stretching, learning organization
We strive to welcome, include and learn from diverse perspectives
We strive to think outside the box – we are guided but not bound by the past
We fail forward and welcome mistakes as learning opportunities (we celebrate the "oops!")
OUR APPROACH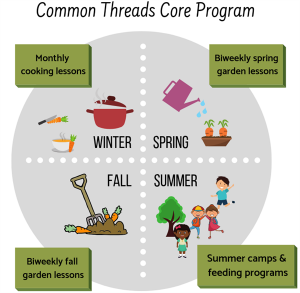 At Common Threads, we believe food justice and racial justice are intertwined. Visit our Equity Statement to learn more about how this forms our approach. 
Common Threads' core school-based program includes gardening lessons in the fall & spring, and cooking lessons in the winter. We lead after school and summer programs at local affordable housing complexes and community centers, and spring break and summer camps at WWU's Outback Farm.
What are the defining features of our approach?
School-based programs mean ALL kids get access to food education
Programs in affordable housing complexes and community centers increase access to healthy food education for the kids living in these communities
A positive peer environment leads kids to be more adventurous
Real tools, real recipes: kids are capable and will bring their families along by sharing what they learn at home
Simple, local and seasonal recipes: Healthy, tasty food can be inexpensive and easy
Our fabulous young AmeriCorps Food Educators are excellent role models and bring energy and enthusiasm!
Common Threads leads a Statewide AmeriCorps Team of Food Educators and is part of the AmeriCorps network of programs through Serve Washington. Our statewide team is made up of two other organizations (Coupeville Farm to School and Oxbow Farm & Conservation Center). AmeriCorps Members are placed at these like-missioned organizations in addition to Common Threads' own site in Bellingham.
AmeriCorps is a program of the Corporation for National and Community Service, the federal agency for volunteering, service, and civic engagement. CNCS engages millions of Americans in citizen service through its AmeriCorps and Senior Corps programs and leads the nation's volunteer and service efforts.
OUR IMPACT
Common Threads evaluated our school-based gardening and cooking programs during the winter/spring of 2019. View a summary of the results here.
As a result of Common Threads programs, kids:
Learn to take turns, cooperate, and care for living things
Blossom in a non-traditional learning setting
Strengthen skills (knife skills, hygiene, how to plant, tend and harvest in the garden)
Become excited to try new foods!
By the numbers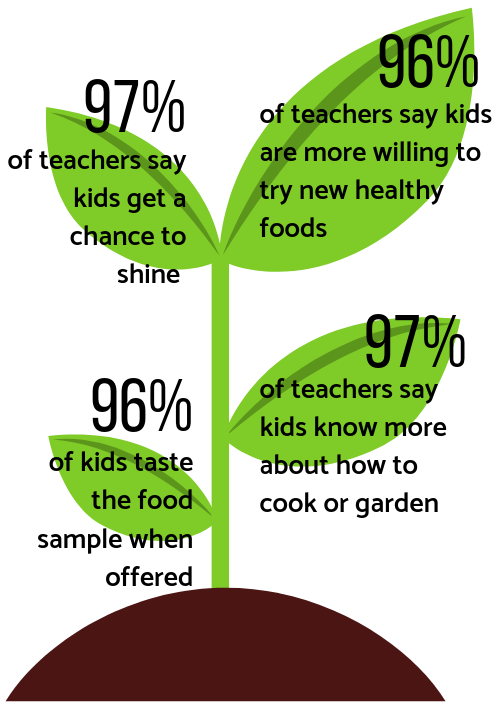 "My son came home so excited about a kale salad and how much he loves it! I've been trying to get him to eat salad for years! Thank you so much!"
"Having the Food Educators come in is so good for the kids. They all have their strengths, but the thing they have in common is their youth and their engagement – they've all wanted to be there, they've all demonstrated a passion."
ANNUAL REPORTS
If you are interested in learning more about how we've been growing through the years, please take a look at our Annual Reports.