Team
Our Staff
Laura Plaut – Executive Director
Once upon a time, a woman gave birth to a child, and began t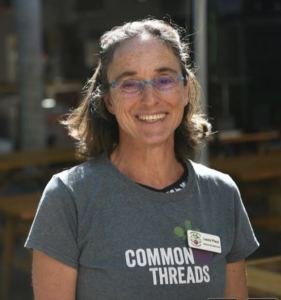 o see the world through his eyes. She saw the sugary cereals, brightly wrapped candies, and processed breads and cookies that the storeowners placed so cleverly right at her son's eye level, and she wondered: how could healthy food compete with this? Was there a way to get her son as excited about fresh fruits and vegetables as he was about Fruit Loops and Pop Tarts? Could she teach her son that eating well was not only the right thing, but also the fun thing?  And thus was born Common Threads. One mom's passion for helping her own kid learn to make happy, healthy food choices turned into a conviction that all kids can and will make healthy food choices if grown-ups would just do a better job of making good choices available at home and at school.
This mom's name (if you hadn't guessed) is Laura, and she is so very proud to serve as the Executive Director of Common Threads.   Laura holds a master's degree in Nonprofit Administration from the University of San Francisco and a bachelor's degree in Chinese Language and Culture from Amherst College. Prior to founding Common Threads Farm, she chaired the Education Program at Prescott College, served as an Instructor and Course Director for the North Carolina Outward Bound School, directed the Fort Miley Ropes Course in San Francisco, served as the Education and Service Learning Coordinator for the East Bay Conservation Corps; and led international service-learning programs for teens in China, Thailand, and Costa Rica.
Contact: laura (AT) commonthreadsfarm (DOT) org
Julia Gray, Program Coordinator
Julia grew up in the middle of the woods on Vashon Island in the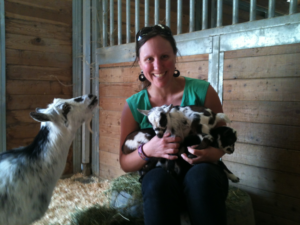 Puget Sound. A close connection with the natural world was developed while exploring the beaches, forests, and farms in this rural setting. She attended Western Washington University and graduated with a Bachelor of Science in Industrial Design and a Minor in Fine Art. For the past nine years, Julia has supported the integration of garden education into public schools in Portland, Oregon. She worked as a garden educator at an elementary school for five years, which led her to pursue the Master's of Arts in Teaching program at Lewis and Clark College. Julia is certified to teach Middle Level Science and English Language Learners. Most recently as the Teacher Outreach Coordinator for Growing Gardens, Portland-based nonprofit organization, Julia focused on teacher professional development and collaboration with teacher teams to support the use of school gardens as outdoor classrooms. Julia returned to Bellingham together with her family and is delighted to join the Common Threads team.
Contact: julia (AT) commonthreadsfarm (DOT) org
Jessica Moerman, Operations Manager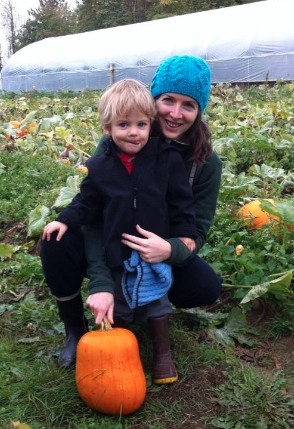 Jessica developed an interest in food production and nutrition during her undergraduate degree at the University of British Columbia, where she volunteered as a classroom tour leader at the UBC Farm. Her interest continued as she and her husband turned their rental yard into a food garden and enjoyed fresh harvests just outside their back door. Prior to coming to Common Threads, Jessica served as the program director for children & youth services for a nonprofit in Vancouver, B.C.. Jessica also holds a Master of Arts in Community Development. She spends much of her time now caring for her two children and cooking seasonally inspired meals for her family. Jessica is exited to go work every day because she loves being surrounded by so many people who also believe in the importance of healthy food.
Contact: jessica (AT) commonthreadsfarm (DOT) org
Thank you to our 2017-2018 AmeriCorps Team! Their service term has ended. Stay tuned for photos & bios of the 2018-2019 Team. 
Our Board of Directors
Olivia Yates O'Donnell, President
Growing up on a small farm in Eastern Washington, Olivia has always had a deep appreciation for where our food comes from and for those who produce it. She was introduced to Common Threads Farm as a Western Washington University student looking for volunteer opportunities, and  first got involved feeding Common Threads' chickens and turkeys (back in the day!)   Her current role on the Marketing team at Whole Foods Market reconnected her with Common Threads Farm and the opportunity to serve on the board.   In her spare time Olivia loves to cook, walk her Mastiff Enzo, travel with her Husband and spend time with family and friends.
Candace Kessel, Treasurer
Candace Kessel is a chemical engineer at BP Cherry Point refinery. She moved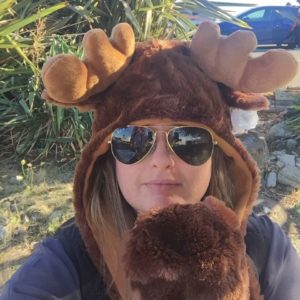 to Bellingham from Houston, Texas in October 2015 and quickly learned that the weather is much wetter and cooler but that it's a whole lot prettier here! Candace enjoys helping young people develop life-long skills that can be used in and out of the kitchen.  In her spare time, Candace enjoys cooking, baking and exploring all the new outdoor adventures and local food the Northwest has to offer.
Beth Auerbach, Secretary
Beth is a recent transplant to Bellingham. She and her husband are
thrilled for the opportunity to put down roots in this wonderful community and raise their two children between the mountains and the bay! An avid "networker," Beth wasted no time reaching out to learn more about Common Threads Farm.  She has a range of professional experience, including as an environmental consultant, community outreach liaison, director and lead instructor of a rock climbing program, organic farmer at 9,000 feet in the Colorado Rockies, preschool teacher, and horse trainer, along with many years in the customer service and hospitality industries. Her formal training includes a BA in conservation biology and environmental education and an MS in landscape planning & ecological design. She is the founding owner of SHED – Sound Habitats Ecological Design, a small Bellingham business that specializes in sustainable landscape design, garden maintenance, and ecological restoration.
Kayla Schott-Bresler, Member At-Large

Originally from northern California, Kayla has been living in the Northwest since 2009. During the day, Kayla is a Public Health Analyst with Skagit County Public Health, where she manages the Housing, Homeless Services, and Community Development division. Previously, she managed policies and programs at affordable housing and public health nonprofits in Oregon and Washington. Kayla has always been interested in work that advances public health, environmental stewardship, and creative approaches to education and is thrilled to support Common Threads Farm. In her free time, she likes swimming in Whatcom County's beautiful lakes, hiking, and cooking for friends and family.
Our Volunteer & Interns
In the 2016-2017 school year, over 100 volunteers contributed 3500+ hours to Common Threads Farm. Volunteers – your tireless hard work is so appreciated, THANK YOU!