CLIMETIME – TEACHING FOR THE CLIMATE
ClimeTime is facilitated by the Office of the Superintendent of Public Instruction (OSPI) —in collaboration with the UW Institute for Science + Math Education—through a Washington State legislative proviso originally requested by Governor Jay Inslee of an annual $4 million investment that began in 2018-19 and continued as a $3 million investment in 2019-20. OSPI manages the network and the grant funding flows through all nine Educational Service Districts (ESDs) in Washington and six community-based organizations (CBOs). The ESDs and CBOs have launched programs for science teacher training, linking the Next Generation Science Standards (NGSS) and climate science. In addition to teacher professional development, the project supports the 15 grantees to develop instructional materials, design related assessment tasks and evaluation strategies and facilitate student events.
Common Threads has joined with other community organizations including Wild Whatcom, Nooksack Salmon Enhancement Association (NSEA), and RE Sources four years in a row to lead teacher professional development opportunities through the ClimeTime proviso to teachers of Whatcom County. We've also partnered directly with the Lummi Nation and Northwest Indian College to incorporate Indigenous Ways of Knowing and environmental justice aspects to the teacher training. Together we specialize in school gardens, salmon recovery, natural resource conservation, and nature immersion to provide experiential education that gets students outside, keeps lessons place-based, and teaches hope, resilience, respect, and conservation of nature.
We hope to see you at some of these opportunities! Please don't hesitate to reach out to Emily Hie (emily.hie@commonthreadsfarm.org) if you have any questions!
Current workshops are listed below: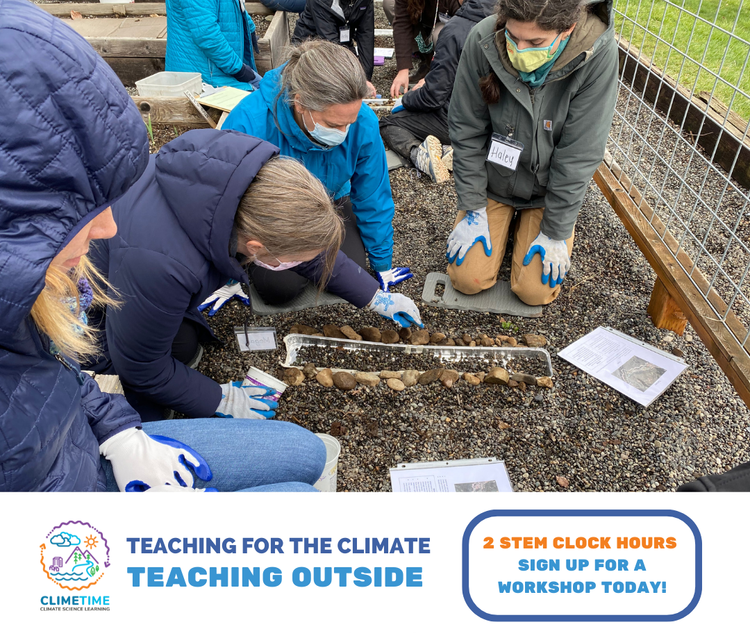 Using the outdoors and teaching climate change.
2 STEM clock hours, receive $50 stipend upon implementation of an outdoor lesson!
Calling all Whatcom County elementary teachers and staff serving grades K-5 looking to integrate the outdoors into everyday lessons: Gain skills to incorporate the outdoors and climate-related lessons with students. Our Teaching Outside workshops are designed to provide teachers and other education staff with the basic skills and tools to implement experiential activities on school sites, in local parks, and in urban settings.
Each workshop is stand-alone and takes place in Whatcom County. Registration is now open, space is limited!
Click the links below to register.
Thursday, Feb. 23, 3:30 – 5:30 @ Blaine Elementary
Register by February 14th!
Thursday, March 23, 4 – 6 @ Nooksack Elementary
Register by March 14th!
Thursday, April 20, 4 – 6 @ Custer Elementary
Register by April 11th!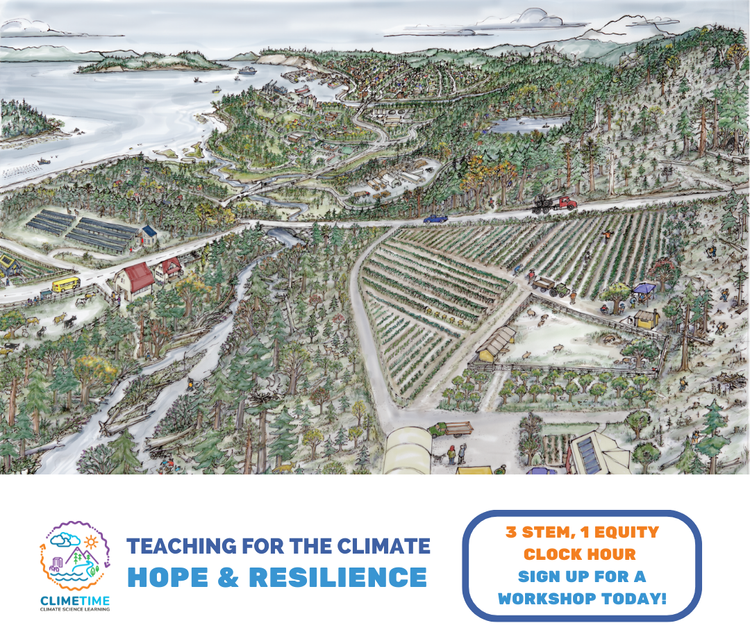 Bring climate hope and resilience into the classroom!
3 STEM clock hours, 1 Equity hour, $100 stipend and various teaching materials
Calling all Whatcom County educators for grades 3 – 12 who want to connect real-world solutions to climate change: These field-based workshops focus on equitable solutions currently being implemented in Whatcom County. The Teaching for the Climate Collaborative will guide participants through classroom-ready STEM activities that illustrate how climate change is affecting different stakeholders and ecosystems. Community members will share their expertise in developing solutions. Together, participants will co-design ways to bring engineering design solutions into the classroom.
The workshops are designed to answer the following questions:
What are the climate change effects on that specific environment (farms, freshwater, marine, forests)?

What community members, tribes, CBOS, etc. are doing about it in Whatcom County?

What are the Indigenous Ways, currently and since time immemorial, to solve these issues?

How do you bring Engineering Design solutions into your classroom based on what you learned today?
All workshops are stand-alone and take place in Whatcom County with transportation (and lunch!) provided. Registration is now open, space is limited!
Click the links below to register.
SALISH SEA
Saturday, Feb. 11, 9am – 1pm Location TBD
Register by February 1st!
WATERSHEDS & SALMON
Saturday, March 25, 9am – 1pm Location TBD
Register by March 15th!
LAND & FORESTS
Saturday, May 6, 9am – 1pm Location TBD
Register by April 26th!