Are you looking for more ways to teach students outside? Whether you are brand new to teaching outdoors or already comfortable with the basics, Nooksack Salmon Enhancement Association, RE Sources, Wild Whatcom, and Common Threads with guests from Lummi Nation and Northwest Indian College have two professional development opportunities for you.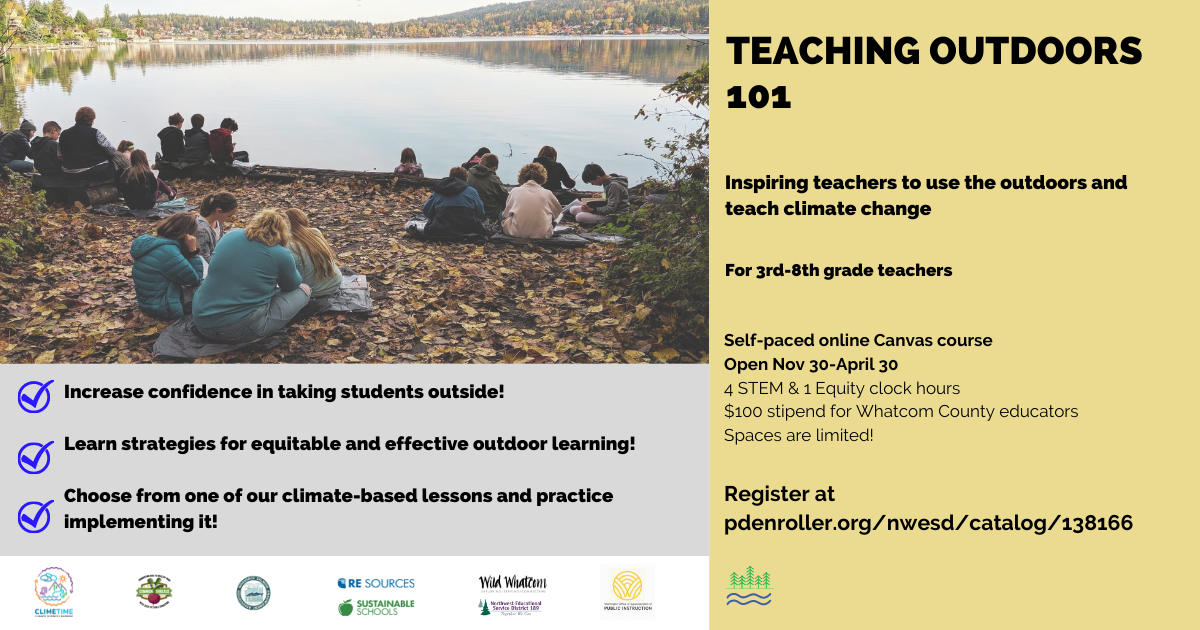 TEACHING OUTDOORS 101
This self-paced online Canvas course brings together the knowledge and experience of our local outdoor education organizations and partners to give Whatcom County 3rd-8th grade educators the confidence to connect the next generation of students to their surrounding community and the natural world. Teachers will work through the Canvas course to learn strategies to create equitable and effective outdoor learning environments. Teachers will then choose one of the provided NGSS-aligned lessons to implement with their students. Lesson plans feature place-based climate science through outdoor, hands-on activities and also incorporating indigenous ways of knowing and social justice. 
Participants who complete the course receive 5 clock hours (4 STEM, 1 Equity) and a $100 stipend. 
To register, create/log in to your account in PD Enroller.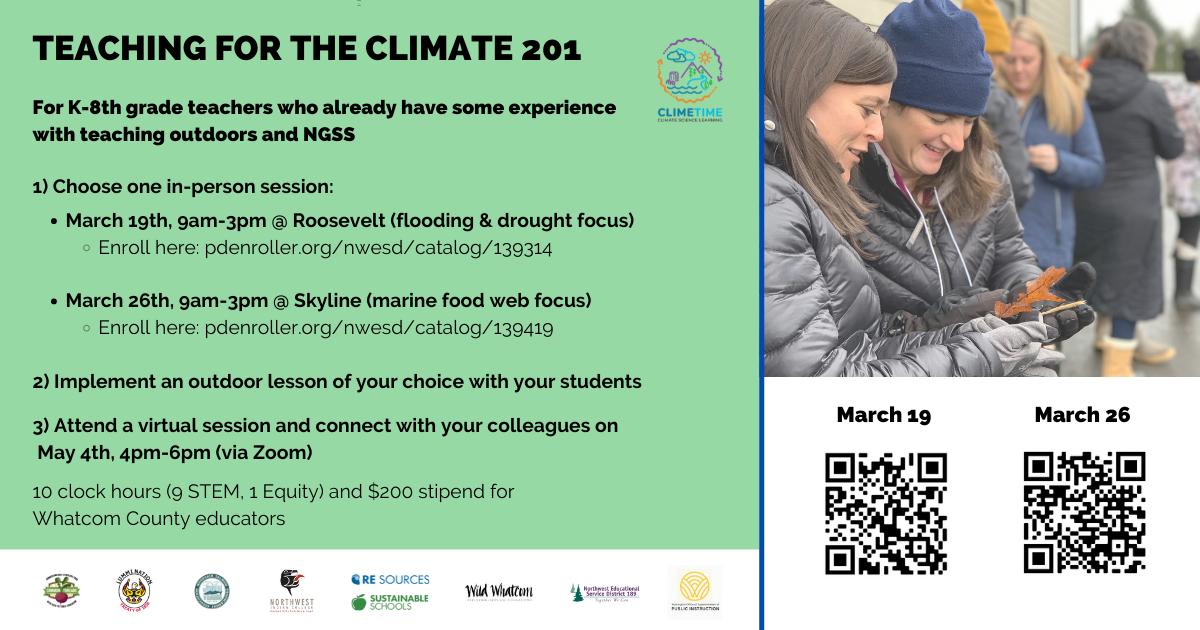 TEACHING FOR THE CLIMATE 201
While the 101 course built foundational skills in teaching outside, 201 will dive deeper to gain the resources to incorporate local climate-related science and indigenous perspective into outdoor teaching with students. This course is open to K-8th grade Whatcom County educators who have some experience with teaching outdoors and NGSS. 
The course includes the following parts: 
Choose

one day of in-person field instruction

(snacks provided on these days)

: 

March 19th,

9am-3pm, Roosevelt Elementary (lessons focused on

flooding and drough

t) OR

March 26th,

9am-3pm, Skyline Elementary

(

lessons focused on

marine food webs

)

Implement a lesson of your choice outdoors

with your students after the in-person session

Meet virtually on May 4th

(4pm-6pm via Zoom link to be shared) after implementing the lesson with students to connect with and learn from your colleagues 
Participants who complete all three parts of the course will receive a $200 stipend and 10 clock hours (9 STEM and 1 Equity hour). 
To register, create/log in to your account in PD Enroller.