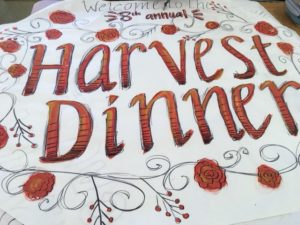 For our 8th Annual Harvest Dinner, over 100 friends and family celebrated with Common Threads the harvest of crops planted throughout the year, and the role of community in growing good eaters!
Preparation began many months prior, of course, with cultivating soil and planting seeds! In the days and weeks leading up to the event, students from each of Common Thread's 21 partner schools harvested kale, squash, apples, herbs, potatoes, beets, carrots and other vegetables. At Whatcom Middle school, students helped prepare a kid-grown menu that included sweet kale salad, butternut squash soup, roasted root vegetables, and apple crisp (recipes here!).
On the evening of the 26th, guests arrived to a Whatcom Middle School cafeteria filled with rich aromas of roasted veggies and transformed by the lively airs of Wild Ginger string band, as well as hand-crafted signs and dahlias donated by Uprising Farms…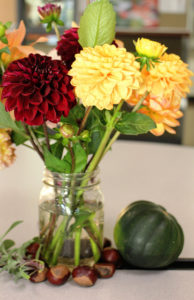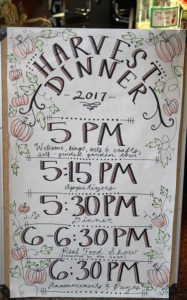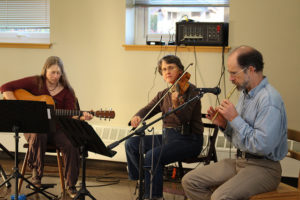 An information-gathering bingo game led some guests to follow colorful chalk drawings out to the Whatcom garden and greenhouse for tours by Food Educators…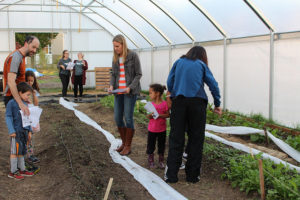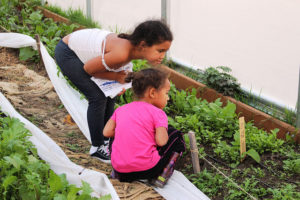 Back at the cafeteria, guests enjoyed a delicious beet hummus appetizer, while many participated in crafts & face painting!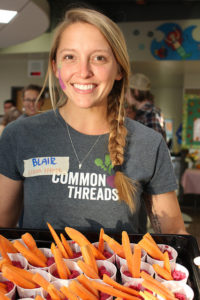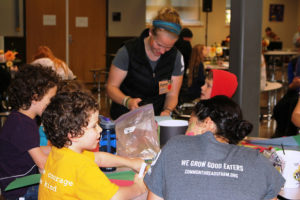 Then, a few of our fabulous community volunteers served up a delicious meal…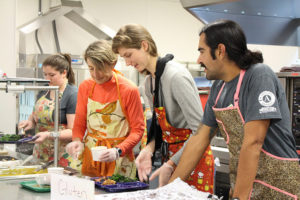 Just after dinner (and during the meal for many!), our Community Food Co-op presented a spectacular, gravity defying, well-balanced, performance by the Community Food Co-op's Real Food Show: the highlight of the evening!!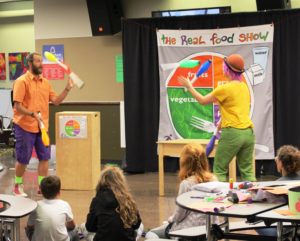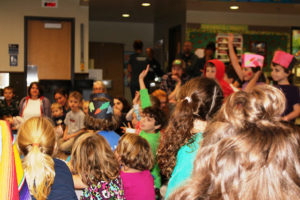 Afterwards, some lucky guests won bingo game prizes, including a complimentary Common Threads summer camp session. All guests were invited to take home a special PeaceHealth kitchen spatula to remember to "Stir Up Good Health," as well as a generous gift certificate from Whole Foods Market, and a colorfully entertaining placemat from our Community Co-op's The Real Food Show!  
The entire event proved a beautiful reflection of the extended Common Threads community of all ages — "tied in a single garment of destiny." (Martin Luther King Jr.).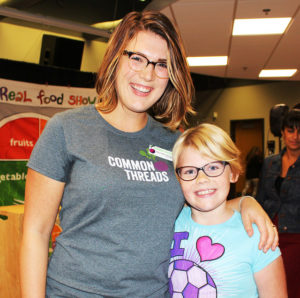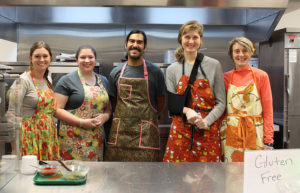 Thanks to everyone who made it out to the Harvest Dinner! What a great evening. We're looking forward to next year's event!
A special thanks goes out to:
Our many volunteers who helped put on the event!

The kids, teachers, & families at local schools for growing the delicious produce!

Uprising Seeds

for donating lovely dahlias, extra produce, and loads of seeds for our gardens!

Whatcom Middle School for hosting (especially Marjorie, Anna, Dennis, and Jeff)!

Wild Ginger for the lovely dinner music!

Our

Community Food Co-op

for The Real Food Show, along with fellow event sponsors: PeaceHealth, Whole Foods Market, Bramble Berry, Superfeet, Trayvax, and Metcalf Hodges.
Julie DeFoer of Good Eye Design, Paul Kearsley, Threshold Documents, and Grow Northwest for help with our event promotion.

All of Common Threads'

supporters

for making events like this possible!

Deanna Ellefson, for the fabulous photos she captured at the event and shared with us!