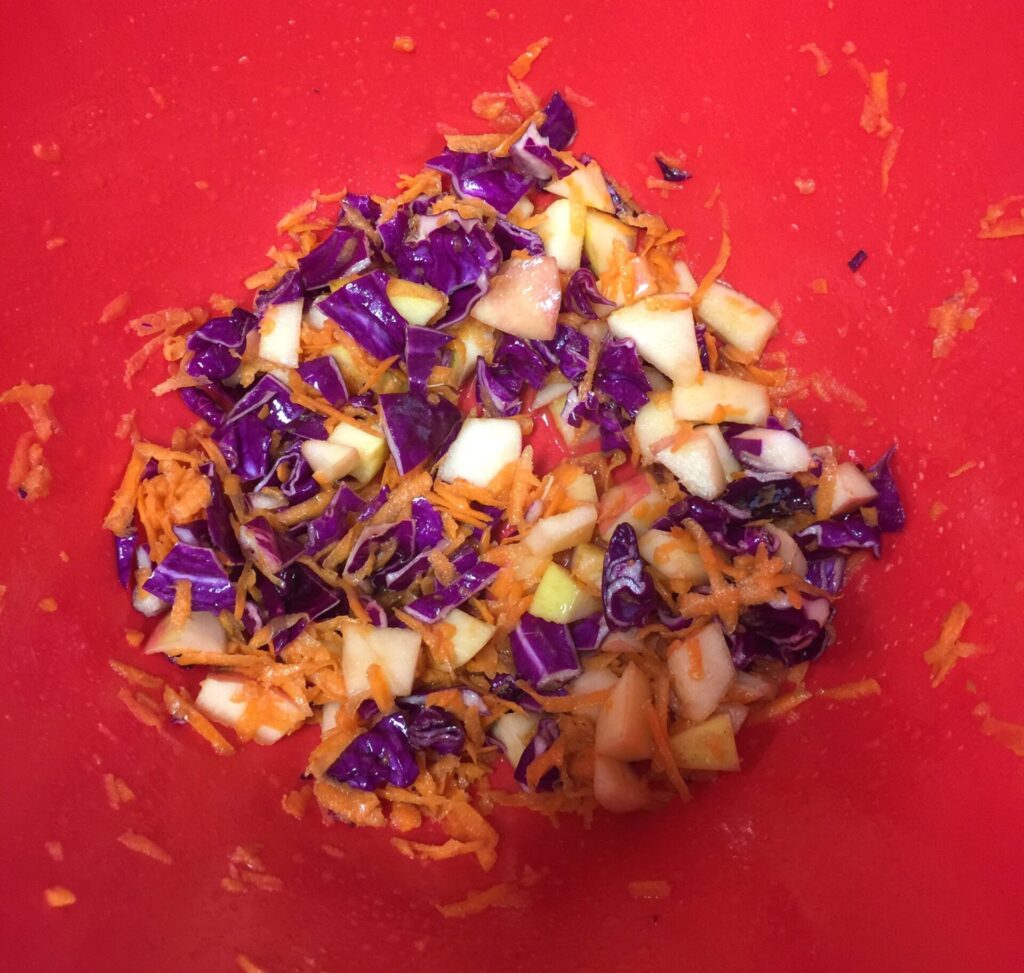 Our third recipe of the 2015-2016 Winter Cooking session at local schools has been very popular! Let us know if you try it at home, we love to hear stories of families trying the recipes.
Ingredients:
1/8 head purple cabbage
1 small carrot
1/2 tart apple
small pinch of salt
optional: cilantro
For the dressing:
1 Tbsp olive oil
1 Tbsp apple cider vinegar
1 Tbsp honey
2 tsp lime juice
Directions:
Wash hands
Peel the leaves of cabbage apart. Cut each leaf into thin ribbons and place in a large bowl
Use a grater to grate the carrot and place in the bowl with cabbage. Remove the core from the apple. Thinly slice the apple sections and add to the bowl.
Remove the core from the apple. Thinly slice the apple sections and add to the bowl.
Optional: chop the cilantro and place into large bowl.
Measure out the dressing ingredients in a small bow. Whisk to combine.
Add dressing to salad and mix. Enjoy!
¡Nuestra receta tercera de la clase de cocinar de invierno 2015-2016 resulto ser muy popular! Cuéntanos y si intentas esta receta en el hogar, nos encanta recibir historias de familias haciendo la comida de nuestras recetas.
Ingredientes: 
1/8 Pedazo de repollo morado
Una zanahoria pequeña
½ de una manzana
Una pellizcada de sal
Opcional: cilantro
Para el Aderezo 
Una Cucharada aceite de oliva
Una cucharada vinagre de cidra de manzana
Una cucharada de miel
2 cucharaditas de jugo de limón
Direcciones 
Lávate las manos a lo menos 20 segundos
Pela las hojas del repollo. Corta las hojas en rebanadas delgadas y ponlos en un tazón o plato hondo al lado.
Use un rallador para rallar la zanahoria y añádelo con el tazón con el repollo.
Saca el corazón de la manzana. Corta la manzana en rebanadas delgadas y añádelos en el tazón
Opcional: Pica el cilantro y añádelo al tazón.
Mide los ingredientes para el aderezo y mézclelos en un tazón pequeño.
Añade el aderezo a la ensalada. Mezcla bien. ¡Disfrute!