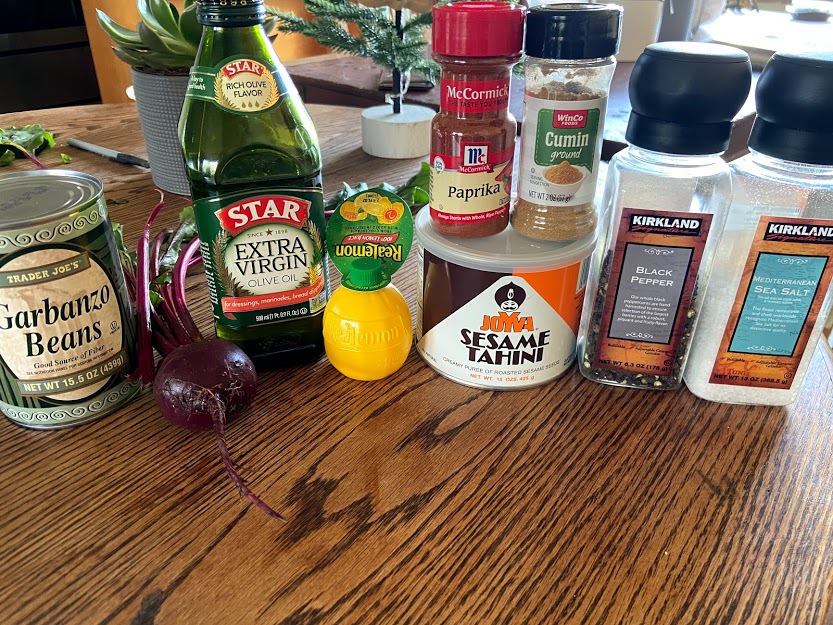 Recommended materials: Large bowl, grater (or knife), cutting board, masher (or fork), tablespoon (or one big spoon), measuring cups.
This recipe makes roughly 2 cups of hummus.
Ingredients:
1 can chickpeas (garbanzo beans)

1 small beet (grated or finely chopped)

4 TBSP olive oil

2 TBSP lemon juice

2 TBSP tahini

(*allergen note: tahini contains sesame)

Pinch of salt 

Pinch of pepper

Pinch of cumin or paprika

Crackers or vegetables, for dipping!
Directions:
Wash hands.

Drain chickpeas by pouring out the liquid from their can.

Pour chickpeas into a bowl.

Add olive oil, lemon juice, tahini, salt & pepper, and paprika or cumin into the bowl with chickpeas.

Using a grater, grate your beet over the bowl of chickpeas.

Use a masher or fork to blend the hummus together until smooth

Dip with crackers or another favorite vegetable.

Enjoy!
Glowing Recommendations from Kids:
 "We should make this for Valentine's Day!" -Kindergartener at Carl Cozier about the beet hummus
 "This [beet hummus] is Santa's dream food!" -Jackson, kindergartener at Columbia
 "This is my favorite food I've made in cooking class!" -Eldon, fourth grader at Columbia