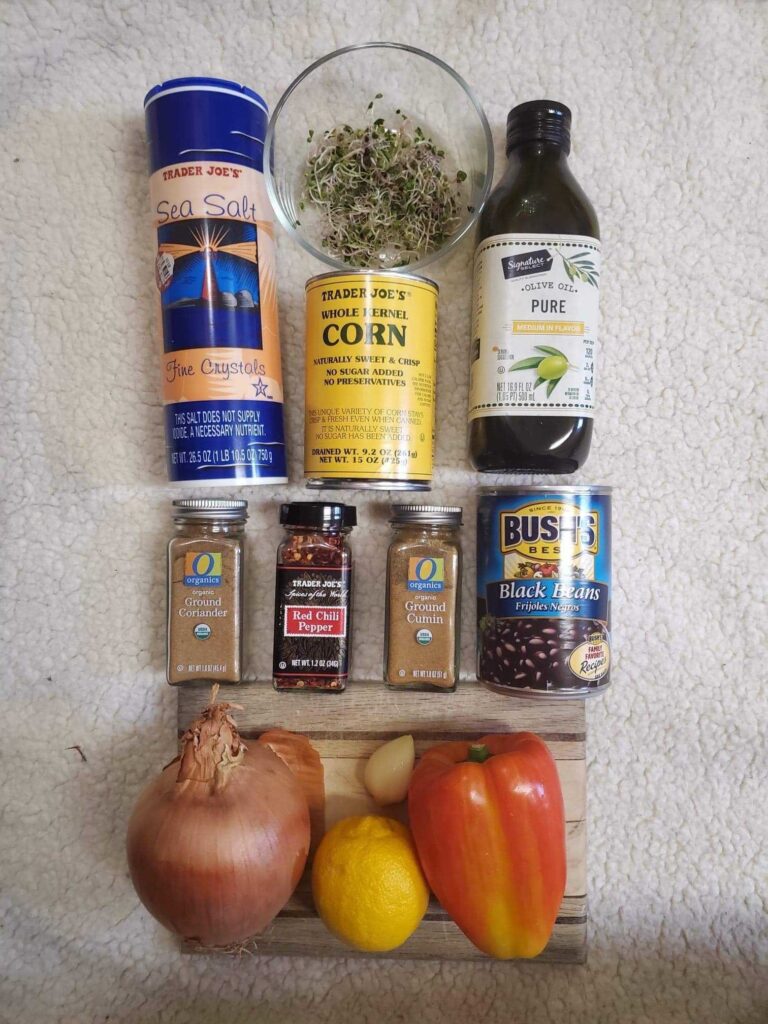 Recommended materials: Large bowl, small bowl, knife, cutting board, whisk (or fork), measuring spoons (or one big spoon and one small spoon), measuring cups.
Ingredients:
1½ cups (or 1 can) of cooked black beans

2 cups cooked corn

1 cup sweet red pepper (chopped)

½ cup red or green onion (chopped)

1 large clove garlic (minced)

2 TBSP fresh cilantro

2 TBSP olive oil

1½ TBSP lemon juice

¼ tsp salt

½ tsp coriander

½ tsp cumin

⅛ tsp red pepper flakes (optional)
Optional: cooked quinoa to serve with salad
Directions:
Wash Hands.

Combine black beans, corn, red pepper, onion, garlic, and cilantro in a large mixing bowl.

Combine olive oil, lemon juice, salt, coriander, cumin, and red pepper flakes (if using) in a small bowl and whisk to combine. This is your dressing.

Add dressing to the mixture in the large bowl and mix well.

Enjoy!
Ingredientes para ensalada: 
1 ½ tazas (o una lata) de frijoles negros cocidos 

2 tazas de elote cocinado 

1 taza de pimienta roja, picada 

½ taza de cebolla picada (Roja o verde) 

1 diente grande de ajo 

2 cucharadas de cilantro fresco 

2 cucharadas de aceite de oliva 

1 ½ cucharada jugo de limón 

¼ cucharadita sal 

1/8 cucharadita de hojuela de pimienta roja(opcional) 

½ cucharadita de culantro 

½ cucharadita de cumino 
Opcional: quínoa cocinada para servir con ensalada 
Direcciones:
Lava las manos.

Prepara por cortando y picando pimienta roja, cebolla y cilantro.

Combine todos los ingredientes de la ensalada en un tazón para mezclar grande.

Combine ingredientes de aderezo en un tazón pequeño y revuelve para mezclar.

Añade aderezo en el tazón para la ensalada. Mezcla bien.

¡Disfruta!