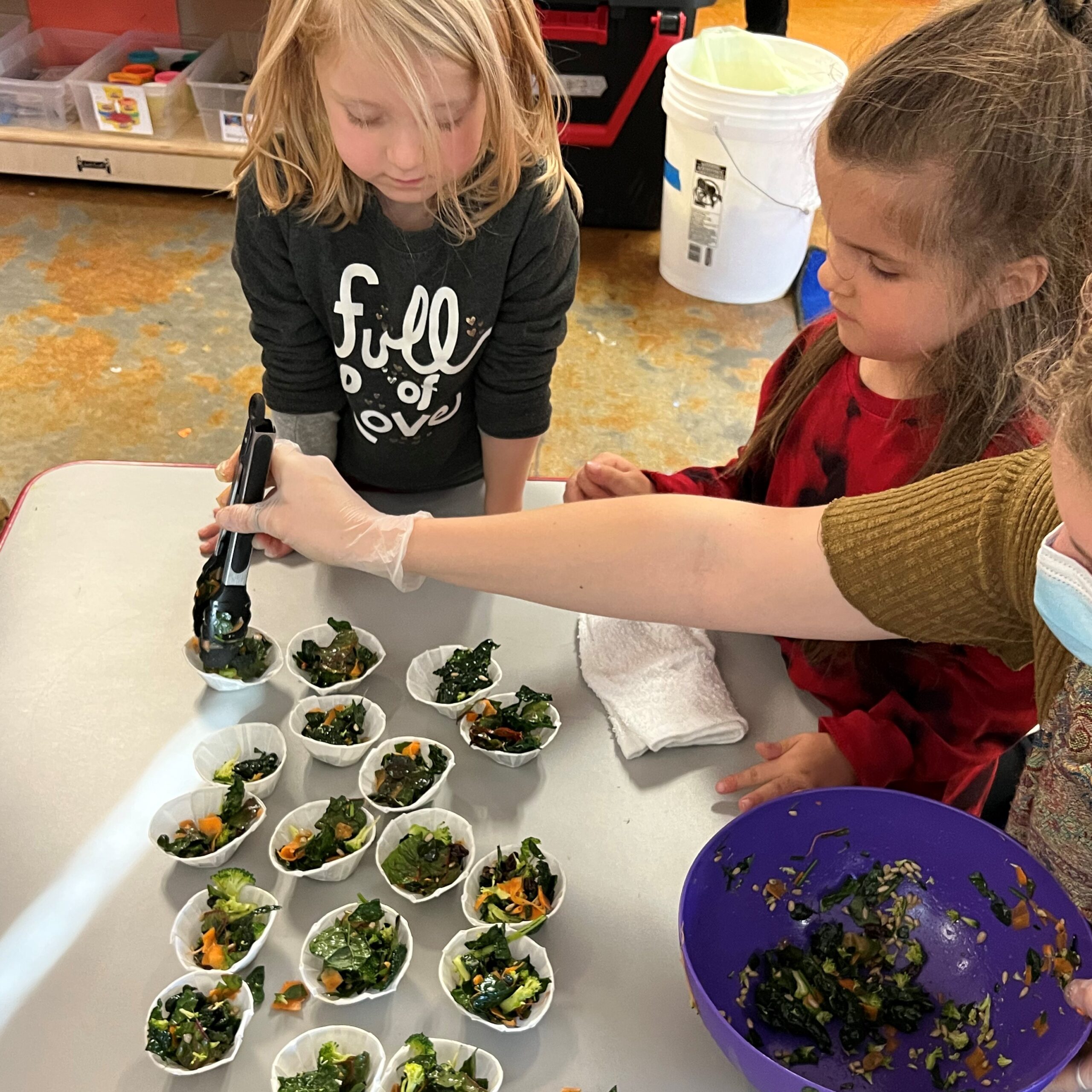 Kindergarteners at Northern Heights Elementary portion out plant part salad so that everyone can have a taste!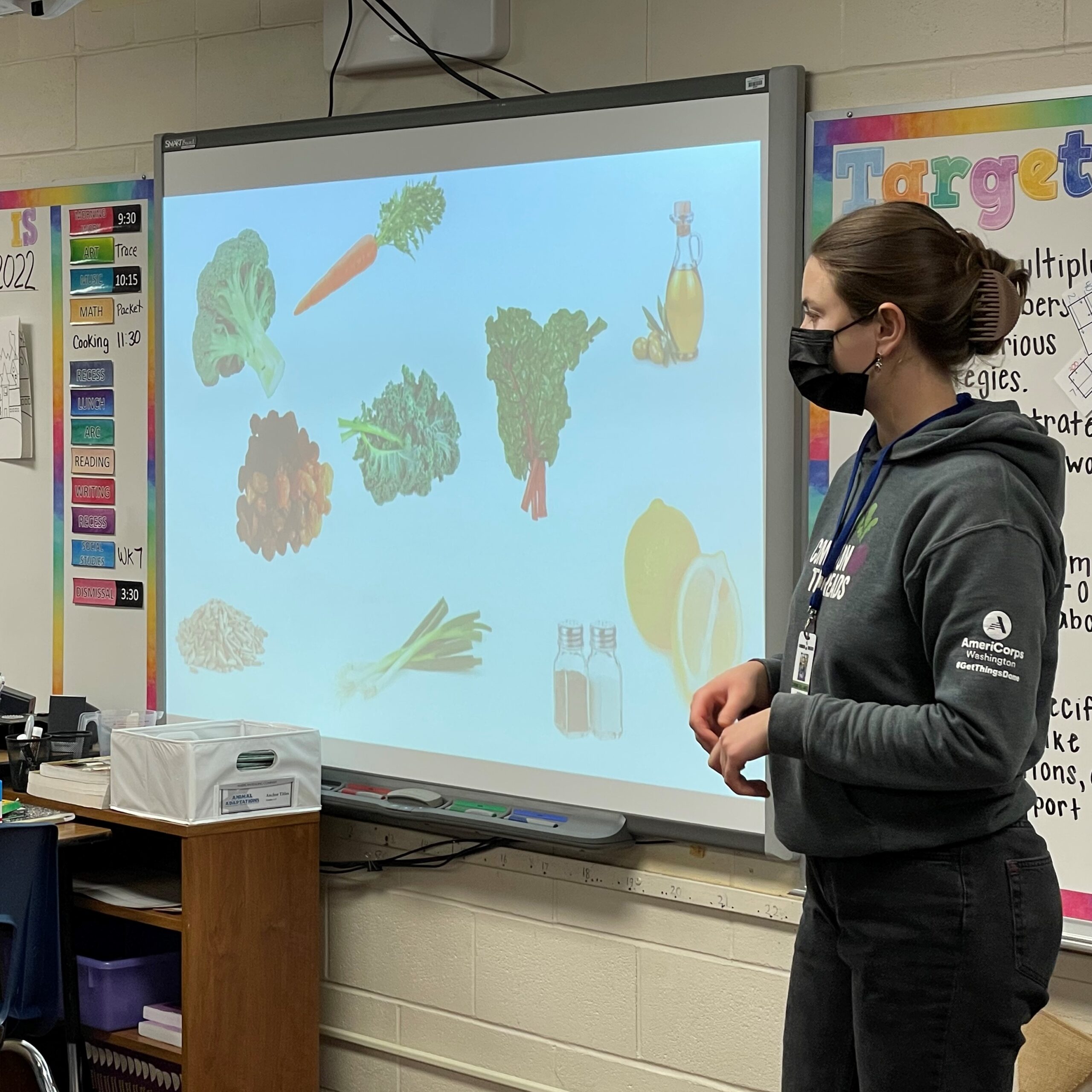 Corinne Hill-James leading the lesson on plant part salad.
Written by Corinne Hill-James, AmeriCorps Food Educator
After nearly a 3-year hiatus, Common Threads is back in the classroom cooking up delicious meals with students. This fall and winter, Food Educators made over 300 Plant Part Salads with elementary and middle school classes across the Bellingham, Ferndale, and Mt Baker school districts. Borscht, Lentil Stew, and Potato Curry are also on the menu.
"Tastes like teamwork!", a kindergartener says while enjoying the class's plant part salad at Northern Heights Elementary School. In four groups, the class worked together to make the salad. Each group gets a carrot, a couple leaves of kale, two chives, a broccoli floret, and a handful of sunflower seeds and raisins. As tools they have one safety knife and one peeler. In a small bowl, they have lemon juice, olive oil, salt, and pepper to whisk up. For 45 minutes, young chefs explore new flavors, develop their knife skills, and follow the journey of the seeds they planted in their school garden all the way to their mouths.
The pandemic put a pause on the indoor portion of Common Threads' school-based programming. Classes were still able to participate in outdoor garden lessons, but without winter cooking they lacked the table side of Common Threads' seed-to-table education. Both teachers and students who got the whole Common Threads experience prior to the pandemic are excited to have cooking back.
"Wow, I was not expecting this to be the group to try the salad, I'm so impressed!", a teacher at Skyline Elementary in Ferndale exclaims while her class is sampling their Plant Part Salad. It turns out that when you get kids involved in the preparation, they are almost all willing to taste a kale salad. Common Threads' Food Educators encourage students to be "brave, adventurous" eaters and try new things. We encourage respectful expressions of individual food preferences, having students practice saying "that's not my cup of tea" if they don't like what they try.
Each lesson connects the recipe to themes of nutrition, geography, history and culture, and, of course, the garden. Before preparing the Plant Part Salad, students practice their plant anatomy and discover the nutritional properties of each plant part. When they make Lentil Stew, they learn about where lentils originated and how they help our bodies. "Lentil Stew? More like mental stew!", jokes a third grader at Carl Cozier Elementary, after learning how the protein in lentils helps our brains grow.
The cooking season will continue into mid-March, then students will be back in the garden to get more food growing. If you're interested in getting involved, Common Threads is always looking for volunteers to support both our cooking and gardening projects. Visit the "Get Involved" section of our website to learn more. If you would like to support young chefs and their new love for cooking, you can donate here. You can also see the recipes we make in the classroom (and many more), on our website. Happy cooking!