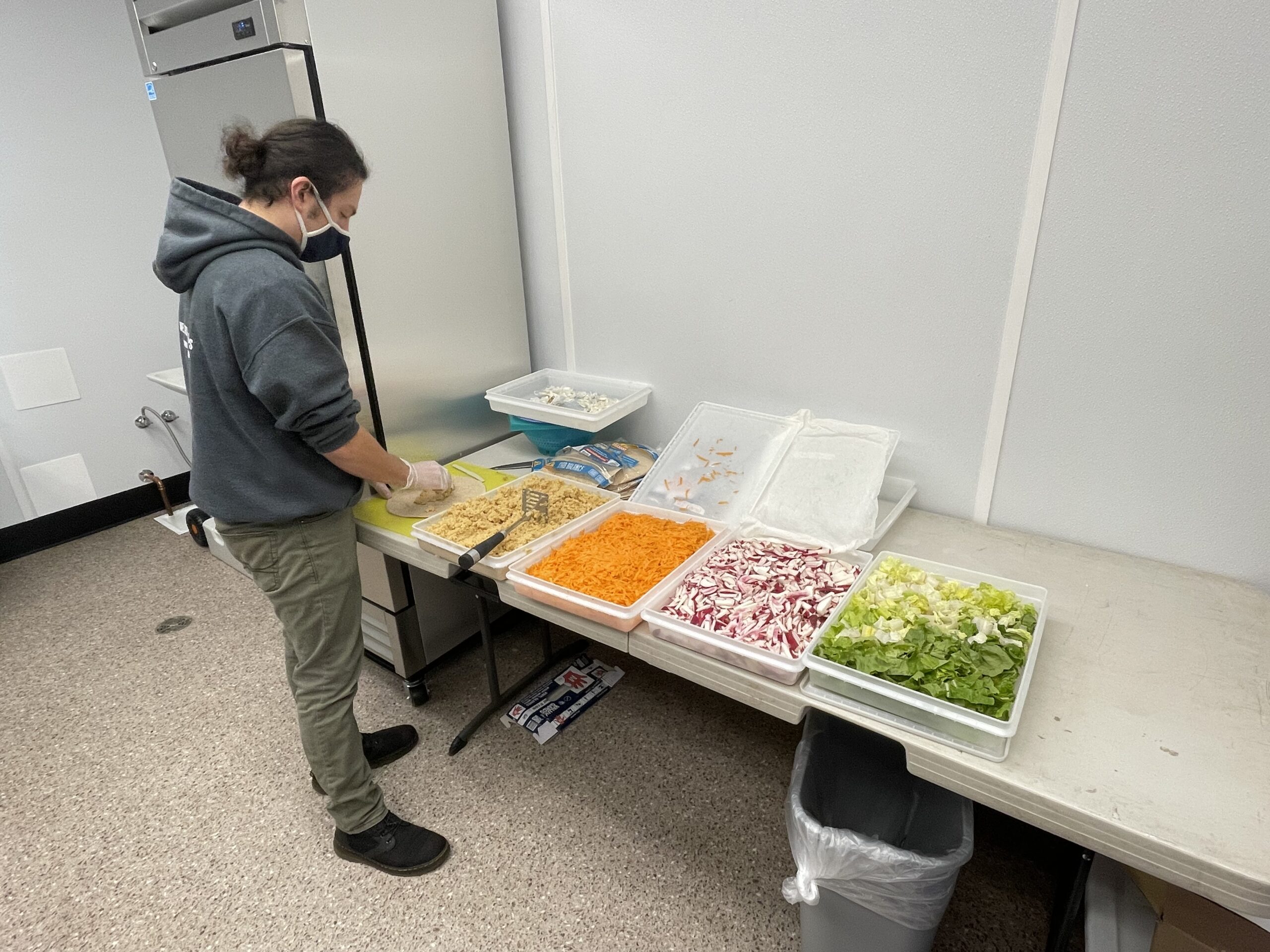 Preparing to make hummus wraps, food educator Tristen Pohlman brings years of kitchen experience to students at Whatcom Intergenerational High School.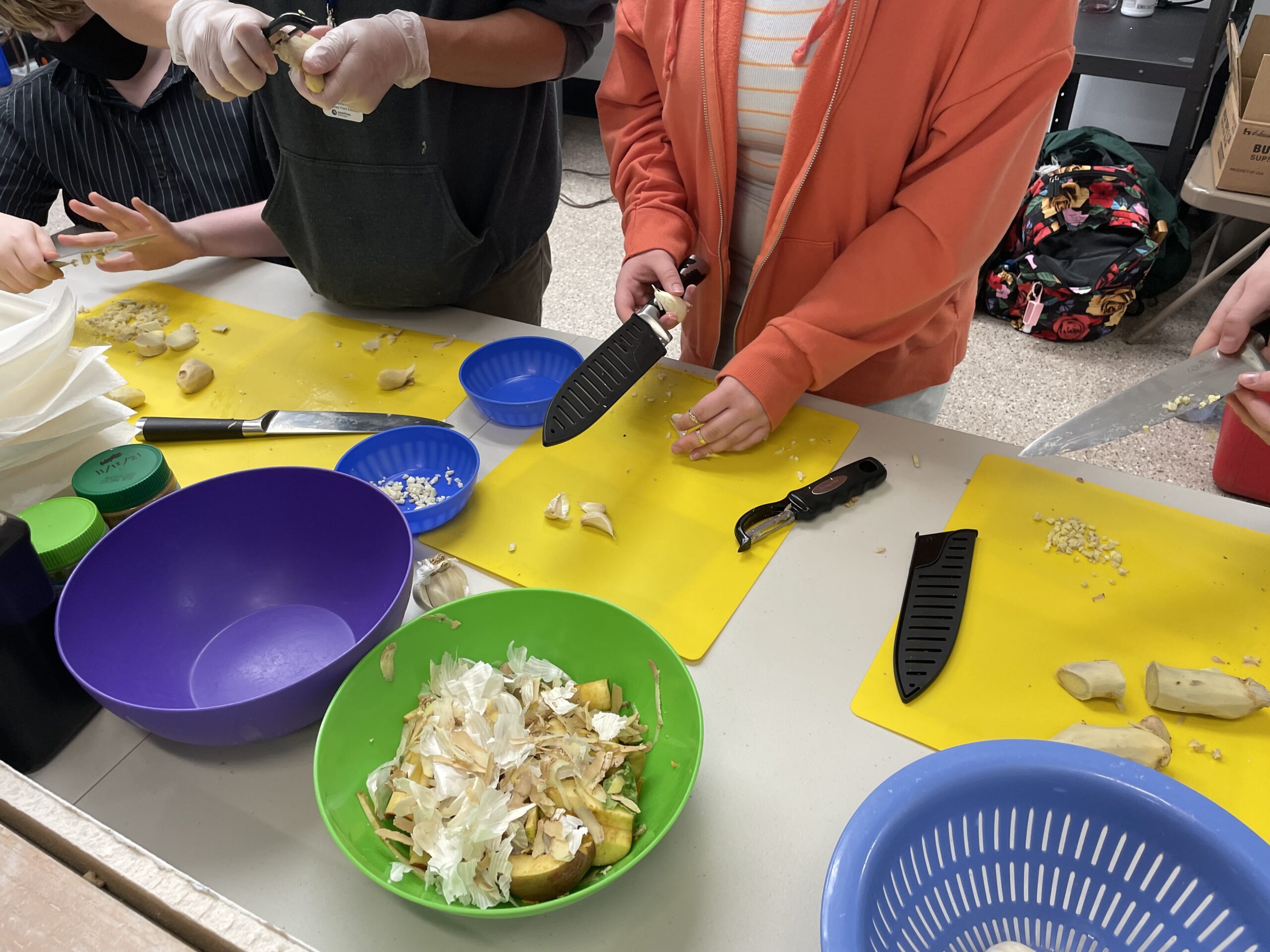 Students practice mincing garlic and ginger with Food Educators Tristen Pohlman, Tessa Bolon, and Lauren Bowie. 
written by Abigail Morrow, AmeriCorps Food Educator
This November, Common Threads Food Educators began a new food service and food education program at Whatcom Intergenerational High School, located in the Bellis Fair Mall in Bellingham. Serving up breakfast and lunch five days a week, students in 9th and 10th grades spend two hours of their day learning new cooking skills and preparing food for their peers.
Founded in 2017 and officially opening its doors in September 2021, Whatcom Intergenerational High School (WIHS) is Bellingham's newest public charter school, serving just under fifty students with its innovative curriculum. WIHS uses phenomenon-based learning, allowing students to explore interests and careers through hands-on experiences with real-world applications. The school hopes to expand to serve 11th and 12th grades over the next two years, extending its capacity to 120 students.
Students at WIHS have access to a variety of freshly prepared meals for both breakfast and lunch, including a tofu pad thai, a salmon chowder, and wraps, soups, and smoothie bowls. While most meals are currently planned by Common Threads' Food Educators, student input is an essential element of the program. Student feedback is regularly incorporated into menu planning, and the program plans to transition to an entirely student-planned menu in the future.
"I've noticed our students really enjoy chopping," says Cindy Reuther, Chief Executive Officer and one of the school's founders. Food educators emphasize proper handling of knives, heating implements, and other kitchen utensils, and students gain confidence in learning how to create delicious food safely. Each two-hour educational block includes preparing an entirely new recipe, and building skills from earlier sessions. While students began carefully practicing their knife skills on ginger and garlic, working to get the "claw" (a hooked hand that prevents fingers from being cut) and the "pancake" (a flat hand on top of the knife for leverage) just right, they quickly moved on to independently using these techniques on other ingredients.
Problem-solving skills are at the forefront of the program, from discovering new ways to incorporate leftovers, to finding the best solution to quickly sauteeing several pounds of tofu in an Instant Pot. Food educators challenge students to think critically about what they eat and how that food is prepared, assisting students in gaining skills in everything from handwashing techniques to plating.
Not only are students empowered to learn new skills and discover new foods, but Food Educators are learning to adapt their teaching skills to new environments. "Being a lead [in this program] has been a super fun experience," says Tessa Bolon, Common Threads Food Educator at the high school. "Not only have I learned a lot, but watching the students grow their culinary skills has been incredibly rewarding!"
WIHS is a small but tightly-knit learning community, with Common Threads' Food Educators taking a prominent position as role models for students who want to explore careers in nutrition and food service. "Serving at WIHS and being welcomed into a community of students eager to learn how to cook and relate to food has been such a wonderful experience!" says Food Educator Tristen Pohlman. "A highlight of my time at [Common Threads]!"
This program will continue through the end of the 2021-2022 academic year. For more information on WIHS, click here.