We had such a great time gardening this fall! Our students learned and experienced so much while exploring the wonders of our school gardens!
Now that we've pulled in our harvest, planted cover crop and mulched our garden beds for winter, we turn to classroom cooking sessions and after-school cooking clubs…HOORAY!!!
Our team of Americorps Food Educators have been immersed in planning and preparation – there's a lot to think about — logistically and in terms of food values — in order to be able to provide the resources, information, and experiences to help kids make daily healthy food choices for life!
Starting this November and through early March students at our partner schools will enjoy cooking lessons in their classrooms each month. This month, students will prepare and taste a fresh green salad that includes all six parts of the plant: root, stem, leaf, flower, fruit and seed. 
Practicing good hygiene and mutual respect for food choices, they experience food mindfully before eating, noticing colors, fragrances, textures, shapes, etc. And they enjoy eating together! 
They'll bring home a recipe (available in both English and Spanish) after each lesson, so they can make it again with their families and friends. If you'd like another copy of the recipes, you'll find versions on our website, here! Yet students cooking with Common Threads also practice creativity in the kitchen, so they're able to substitute ingredients to prepare the recipe differently, according to context.
Expect some excitement. As dear Jonah, a former 1st grader at Columbia exclaimed: "I've been waiting a long time to tell you this… this is SO fun!  This is SO fun! This is my first time cooking!!!"
Parents and guardians tell us wonderful stories about changing taste buds and budding chefs (please send us your stories to info@commonthreadsfarm.org or post them to our Facebook page :-))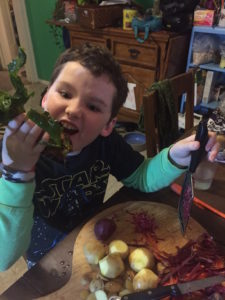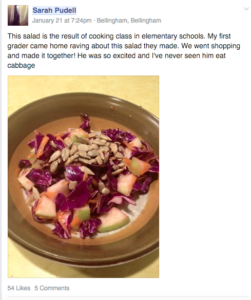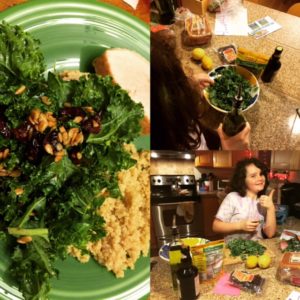 As part of our commitment to empowering young people – particularly those living in high-risk circumstances – to make healthy food choices, so that they'll thrive physically, emotionally, and academically, Common Threads is getting ready to launch after-school cooking clubs at low-income apartment complexes, in addition to our regular school-day and after-school programming.
If you're interested in volunteering or sponsoring a cooking club or contributing in any way, please contact us via email (info@commonthreadfarm.org) or donate through our secure website portal: https://commonthreadsfarm.org/support/donate/  
THANKS for helping to GROW GOOD EATERS!!