"I used to think that my parents were mean when they kept me from eating junk food, now I know they do it because they love me," observed one 4th grader in a recent Pure Food Kids workshop.
Our students are investigating ingredient labels and nutrition facts, learning about food additives, marketing, and sugar, AND cooking their own chili! ~ all as part of an exciting partnership between Common Threads and the Beecher Foundation's Pure Food Kids! Fourth graders are becoming Food Detectives, with the skills they need to critically analyze the food they eat. 
Pure Food Kids workshops start by emphasizing the importance of powering our bodies with food that gives us energy. Students then examine marketing strategies companies use to sell their products. They learn to find the truth behind marketing claims by reading nutrition labels and ingredients lists. In this process they discuss the difference between whole and processed food, what a serving size means, and how much sugar is hidden in most of the processed food we eat.
To lead into cooking, students are asked to compare the ingredients between canned chili and the recipe they are about to prepare, with a special examination into what "flavoring" might mean on the ingredients list. After a discussion about safely handling food and knives, our energized food detectives transform into chefs–chopping, measuring, and cooking a pot of chili right in their classroom! 
While the chili simmers, students play a Food Additives Mystery Game, exploring the differences between natural and artificial flavors, colors, and preservatives. Many students are shocked to learn that several common food colors and preservatives used in the US, including Red 40 and BHT (butylated hydroxytoluene) are actually banned in other countries because of health concerns.
The workshop finishes with a chance for students to taste the chili and reflect on what they learned. Students are so excited to become more aware of what's in their food! Pure Food Kids workshops open new horizons for many students, such as this freshly-minted food detective: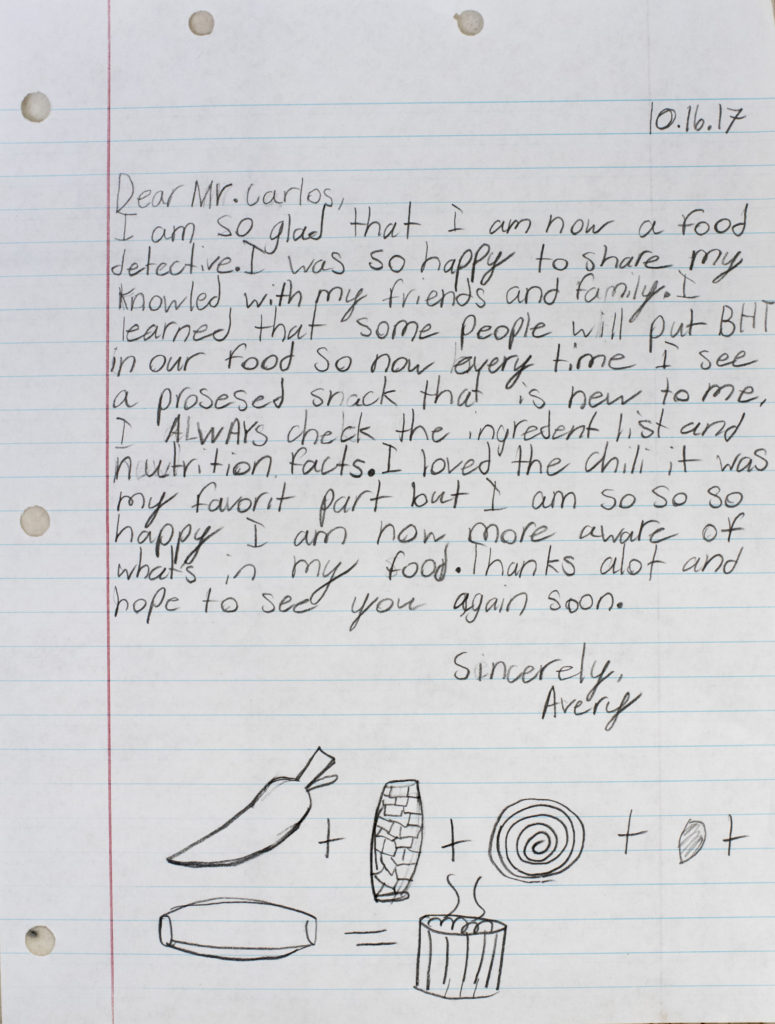 Thank you Pure Food Kids for helping us expand our mission to grow good eaters as we empower students to become food detectives!
If you'd like to see students at your school experience one of our Pure Food Kids workshops, please send us a note – we'll be happy to arrange a visit! If your school doesn't yet offer our workshops, please let us know you're interested!