As schools return to their rhythms and garden lessons commence, we thank and applaud our summer garden care volunteers – our Garden Angels! Having signed up at the end of spring, Garden Angels cared for gardens all summer –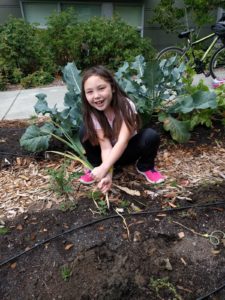 weeding, harvesting, and keeping plants alive during some long hot days!
The responsibility and resourcefulness supplied by Garden Angels are gifts to our entire community. Neighbors, teachers, parents, grandparents and guardians, Garden Angels gave generously of their time – and some volunteered at more than one school garden (see our Garden Angel 2017 Honor Roll, below!).
Many of our Garden Angels enjoyed the opportunity to volunteer with their kids. Alex Casey and his daughter Jillian (pictured) had a great time volunteering at Cordata Elementary School Garden. Alex was able to teach Jillian how to care for the garden and harvest responsibly. Observing plants and pollinators together, they added sweet memories to stores of knowledge!
Alex and Jillian were not the only ones enjoying the Cordata school garden: kids with YMCA teachers during the day gathered there to read and relax. Please join us in extending a hearty thanks to ALL of our Garden Angels – over 100! – who, like Alex and Jillian, stewarded these valued community resources over the summer!
Garden Angel 2017 Honor Roll
Ché Acord – Parkview
Cara Anderson – Silver Beach
Daniel Anderson – Assumption
Sam Ashlock – Geneva
Jessica Ask, with Haley, Ashley & Parker – Roosevelt & Whatcom
Marca Babcock – Parkview
Antoinette Baxter – Alderwood
Anna Blick – Columbia
Beth Bloom – Roosevelt
Amanda Blue – Silver Beach
Heidi Bode – Lowell
Team Brashears – Geneva
Hope Bright – Carl Cozier
Tiffany Brooks – Parkview
Lisa Buckley – Columbia
Tracey Burke – Geneva
Coralie Burr – Silver Beach
Jessie Burton – Happy Valley
Diane Button – Alderwood
Alex Casey & Jillian – Cordata
Jenn Cassie – Happy Valley
Amy Chaloupka – Parkview
Stephanie Childs – Cascadia
Pippin Christiansen – Lowell & Kulshan
Stefanie (Neale) Cilinceon – Roosevelt
Christina Clark – Carl Cozier
Keri Clark – Parkview
Virginia Cleaveland – Whatcom
Kali Colwell – Happy Valley
Nicky Cook-Desler – Happy Valley
Kirsten Cox – Cascadia
Amy Dearborn – Roosevelt
Jamie Desmul – Geneva
Robyn Deter – Geneva
Kathy Dew – Kulshan
Sarah Dickinson & Kaleb – Happy Valley
Adrya Dubel – Cordata
Renee Elder – Kulshan
Sarah Engel – Cordata
Lindsey Escher – Columbia
Kim Evans – Happy Valley
Dana Ferrier – Kulshan
Jennifer Gaer – Kulshan
Morgan Glenn – Carl Cozier
Danielle Goodwin – Cordata
Anne Granberg – Roosevelt
Sherry Haynes – Birchwood
Tara And Family Heinrichs – Cascadia
Shannon Jacoby – Cascadia
Staci Johnson – Assumption
Brooke Jones – Lowell
Kaslo & Laurie Jordan – Cascadia
A.K. – Columbia
Dawn Kennedy – Alderwood
Christina Kulhanek – Carl Cozier & Kulsan
Song Lantzy – Kulshan
Juliana Larson – Cascadia
Sara Larsen-Cooper – Silver Beach
Laura Lawyer – Silver Beach
Erin Leedom – Lowell
Nofoaga & Peter Lewis – Carl Cozier
Lynette Machinski – Assumption
Heather Manning – Geneva
Carolina Mathews – Kulshan
Nate Melanson – Columbia
Julie Mellick – Carl Cozier
Erika Miller – Whatcom
Amy Munson – Cascadia
Erin Norman – Lowell
Daniele O'Connell – Sunnyland
Yelena Odushkin – Silver Beach
Jasmine Olivas – Alderwood
Tim Omelia – Alderwood
Elizabeth Page – Lowell
Josh Parrish – Parkview
Julie Peterson – Parkview
Jessica Poste – Geneva
Danielle Price – Carl Cozier
Colleen Prinster – Kulshan
Renee Ragsdale – Parkview
Faye Rasmussen – Geneva
Amy Rehmert – Cascadia
Emily Revard – Cordata
Sarah Rose – Alderwood
Barbara Roxas – Lowell
Christa Russell – Roosevelt
William Schenken – Happy Valley
Erin Shaffer – Silver Beach
Maggie Spinelli – Roosevelt
Miel Steel – Geneva
Sharece Steinkamp – Cordata
Kate Stevenson – Carl Cozier
Crispin Stutzman – Parkview
Amy Vergillo – Columbia
Eli Vignali – Sunnyland
Silje Watson – Lowell
Justine Waymire – Parkview
Towhee Wean – Columbia
Lindsay Wells – Columbia
Jason Wilhelm – Carl Cozier
Renee Wilgress – Columbia
Laura W Willkie – Roosevelt
Angel Yasuda-Defeo – Assumption
Family Zaugg – Cascadia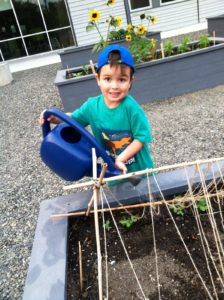 Hooray for Garden Angel Kaleb!