by AmeriCorps Food Educator, Caroline Boschetto
Starting a garden is never a predictable endeavor. You may try to control the exact variety of seeds you're planting, the amounts of water you pour over their roots, and the weeds and pests that you attempt to drive out. But inevitably, you're thrown off by unexpected winds and rains, frustrated by hungry insects, and delighted by volunteer crops that spring up without our planning. 
Right now, much of life is feeling unpredictable as well. Here at Common Threads, we are disappointed that we can't do what we love most – teaching students in the garden. But instead of dwelling on the can'ts we are focusing on the cans. Something us Food Educators can do is plant beautifully vibrant and productive school gardens this spring so we can be ready to nourish, teach, and inspire our students once they return.
And while your student is spending their days away from the classroom, this is the perfect opportunity for them to get  started gardening as well at home. Whether you've got an acre of land or a sunny windowsill, there's a way for everyone to get involved in the magic of growing your own food this spring!
Here's a peek into what we've been up to in the gardens and some tips about how you can get started growing food as well:
What to plant and when to plant it
At Assumption Elementary, one of the school garden sites I manage, I've already transplanted some hardy sugar snap pea, kale, and lettuce starts. I've also planted a wide variety of seeds including rainbow carrots, radishes, arugula, spinach, earl gray, beets, and broccoli raab (and am eagerly waiting to see their first signs of sprouting!) Some plants grow better when started in trays indoors by a window or a grow light, or in a greenhouse. Other crops prefer to be directly seeded into the ground. You can find this information on the back of a seed packet, as well as advice on when to plant the seeds, how deep to plant them, how much space they need, and days until germination. Planting times will change depending on the hardiness zone in which you live and the last frost date. Bellingham for example is in hardiness zone 8a and has its last frost around early May. Check out this map to figure out which hardiness zone you live in.
Pro tip: try succession planting! Plant one row of spinach per week so that your harvests are staggered and you can enjoy fresh veggies throughout the whole season.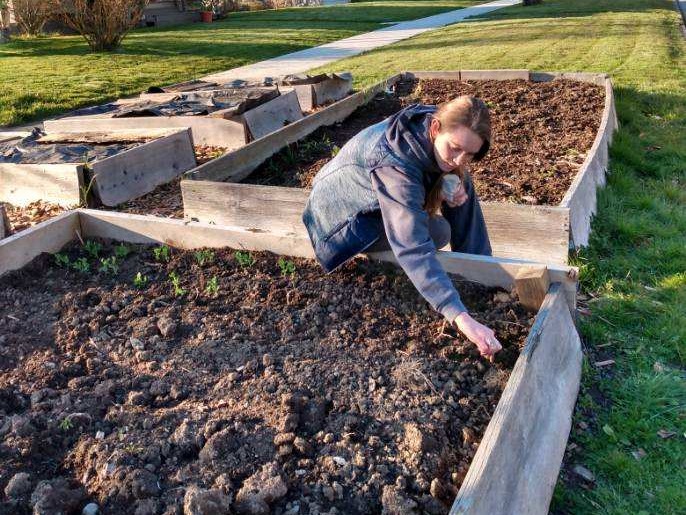 What if I don't have a yard?
You can still take advantage of the spring sun with just a windowsill! Simply seed some containers with fertile potting soil and place them on a table or ledge by a window. It is best to place plants by a south facing window for maximum sunny goodness. If you don't have the space for full sized crops, you could experiment with microgreens! All the way back in February this year, I tried seeding some trays with buckwheat and left them by my living room window. Within weeks I had a full harvest of sprouts which made a fresh and nutritious topping for salads and sandwiches. Remember to water your indoor plants regularly, as they won't benefit from the last weeks of the spring rain like outdoor plants will!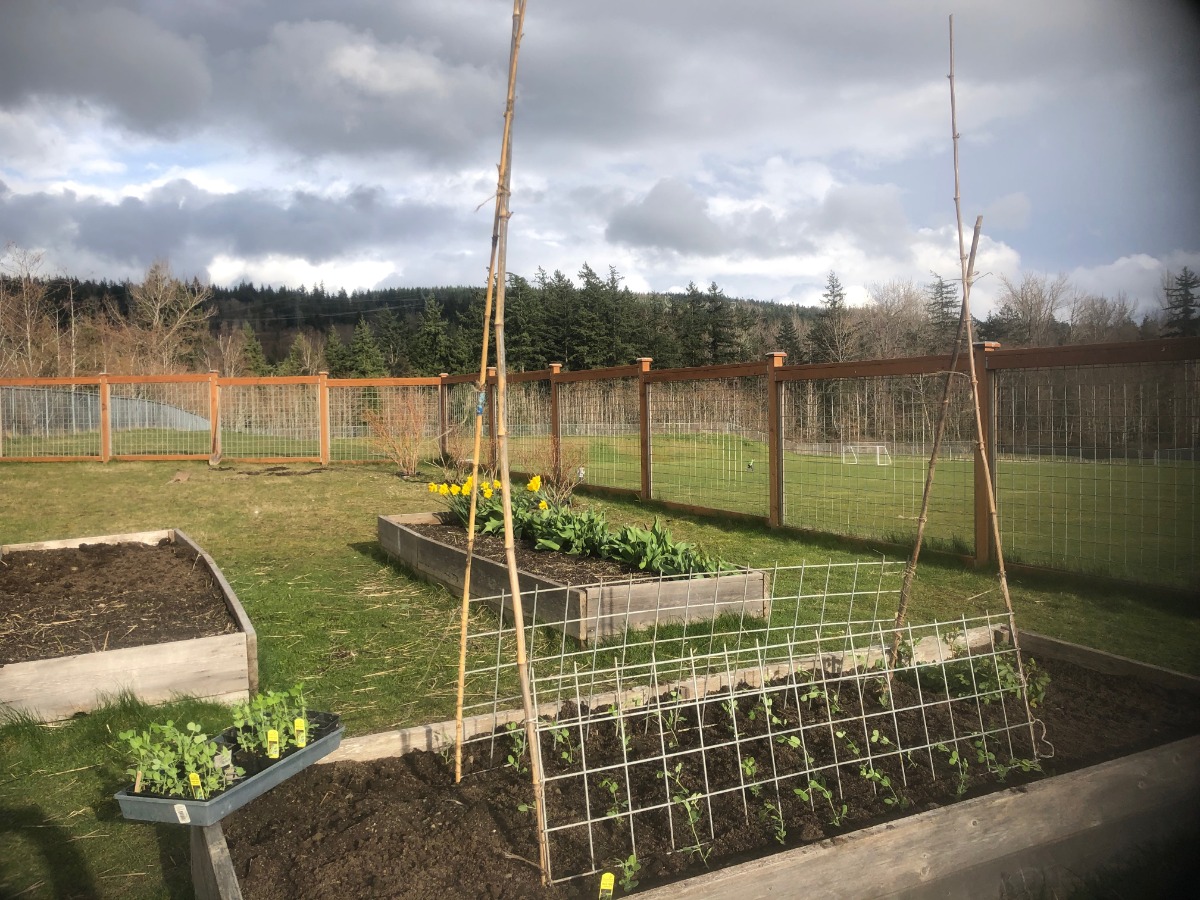 How can I get more creative (with kids) in the garden?
At Assumption's garden, in order to add some color to the space before vivid fruits, vegetables, herbs, and flowers fill the beds I decided to create some garden art. I used acrylics to paint smooth stones into vibrant labels for soon to be sprouting sunflowers, strawberries, and carrots, as well as inspirational garden quotes and images of garden critters. For kids and adults who are more artistically inclined this could be a great activity to try. And for young architects and engineers, try building trellises for cucumbers, peas, and beans. With just some bamboo and twine, you can construct ladders for climbing pea vines or teepees for swirling bean stalks, which double as great reading nooks or hide and seek spots!
We hope that you find as much joy and satisfaction in working with plants this spring as all of us at Common Threads do!