As prepared in the classroom during the 2017-2018 winter cooking series! Read about the lesson here; download recipe cards below.
Serves 4-5
Ingredients:
2 TBSP olive oil
1 medium yellow onion, minced
2-3 garlic cloves, minced
1.5 cups finely chopped purple cabbage (about 1/4 of a head)
1 cup grated carrot (about 1 medium carrot)
3/4 cup frozen peas
2 cups cooked brown rice
3 TBSP soy sauce or tamari (gluten-free soy sauce)
1/2 tsp pepper
1/2 tsp ground ginger
Directions:
Wash hands.
Heat 2 TBSP of olive oil in a large pot over medium heat.
Add onions, and sautee for 2 to 3 minutes, or until translucent.
Add garlic and purple cabbage, and sautee for another 1-2 minutes.
Add carrots and peas, and sautee for another 1-2 minutes.
Add rice, tamari, pepper, and ground ginger, and mix well.
Serve and enjoy!
❊ Note: Play with other ingredients! You can add other vegetables like bok choy, broccoli, or leafy greens.
Downloadable recipe cards, in English and Spanish: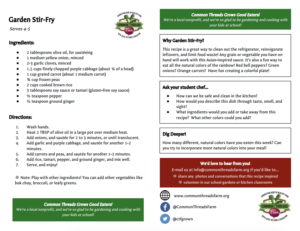 Garden Stir-Fry, Downloadable version, English