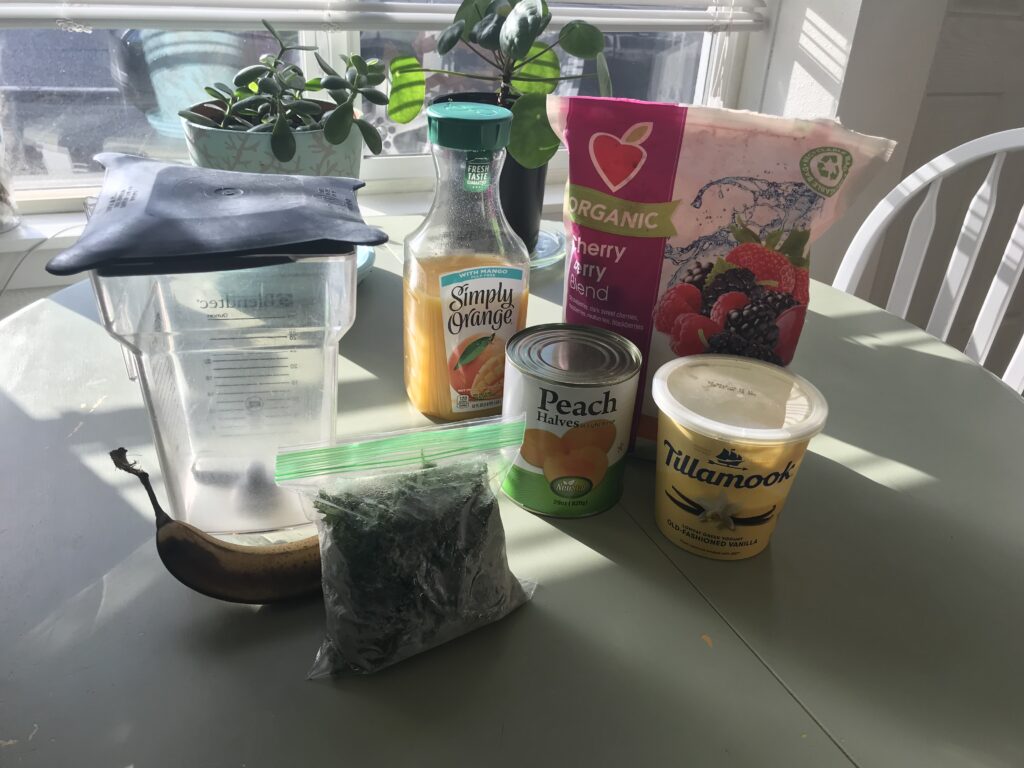 Ingredients:
4 large kale leaves or 1 handful of spinach
1/2 cup berries (blueberries, raspberries, strawberries, etc.)
1 orange (for juice)
1 cup plain yogurt
optional: 1 peach and 1 banana
Directions:
Rinse all produce in a colander.
Cut the orange in half and juice. Put juice, berries, and yogurt into the blender and blend until smooth.
Peel the banana and the peach if using. Cut the banana into round and the peach into small pieces. Add to blender and blend until smooth.
Cut greens into smaller pieces, place in blender, and blend until smooth again.
Pour into glasses and enjoy!
VERSION #2
Serves: 4-5 glasses
Ingredients: 
20 kale leaves, de-stemmed

1 apple, cored and chopped

1 banana

2 cups orange juice 

1 cup greek yogurt
Optional: chopped mint leaves for garnish
Directions: 
Wash hands

Add all ingredients to a blender, and blend on high for 2 minutes, or until desired texture and consistency are reached

Add more yogurt to thicken it or more orange juice to thin it out

Serve in glasses and top with mint leaves

Enjoy!
Note: Play with additional ingredients! For example, you can add fresh ginger for a spicy flavor or ground cinnamon for a warmer flavor.