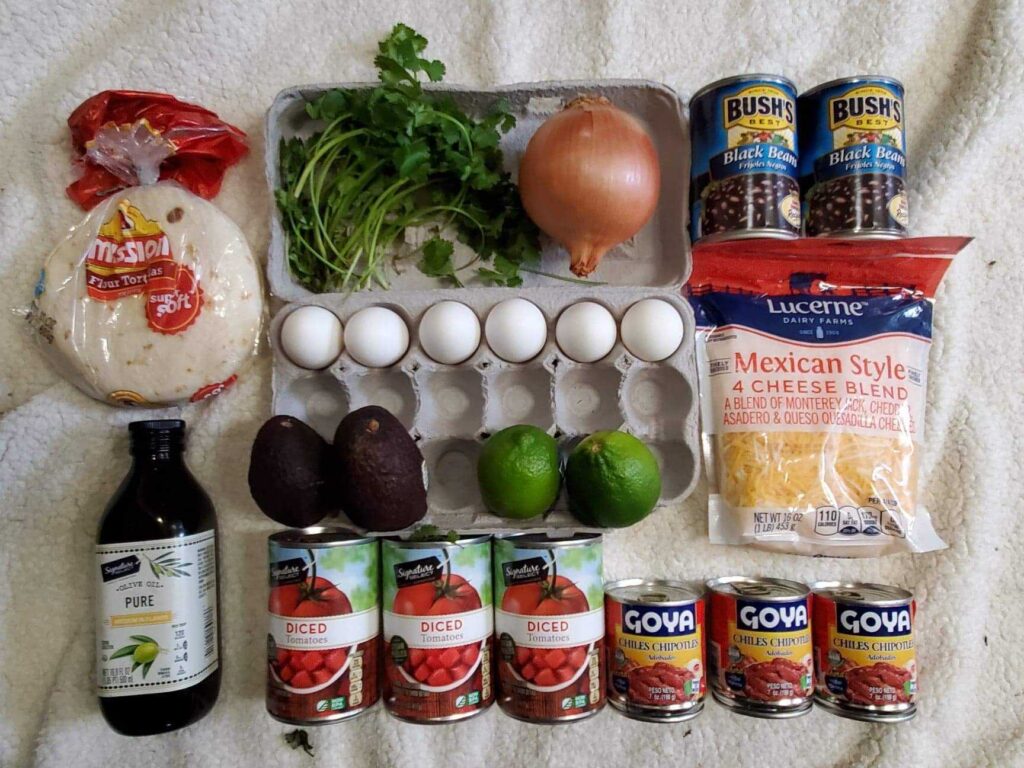 This recipe requires a heat source
Recommended materials: Blender (optional), two small pans, large skillet, spatula, grater, knife, cutting board, tablespoon (or one big spoon), measuring cups.
Ingredients:
3 cans diced tomatoes

1-2 onions (finely chopped)

3 cans chipotle pepper in adobo or 3 fresh chilis – adjust for preference (roughly chopped)

2 cans beans of choice 

6 tortillas

1-2 large limes (juiced)

About 3 TBSP vegetable oil (or olive oil)

6 eggs

2-3 avocados (sliced)

3 oz cheese of your choice (shredded and optional)

1/2 cup cilantro (finely chopped)
Directions: 
Wash hands.

Either blend or hand mix in a bowl the diced tomatoes, onion, cilantro leaves, chipotle or roughly chopped fresh chili, and lime juice until smooth. Pour into a small pan to simmer while you do the next steps.

Empty the beans into a small pan and warm over low heat. Add water if necessary.

Heat oil in a skillet on medium heat then add the eggs. 

Fry eggs for 3-5 minutes – until they are cooked to your preference.

To serve, place tortillas on plates and add a few spoonfuls of beans. Place an egg on top of the beans then drizzle over with your warm salsa. Top with a little cheese and avocado on the side.

Enjoy!