Common Threads cherishes interns who contribute multifaceted talents, kindnesses, and passions to growing good eaters! This summer, we were delighted to welcome Amber Anderson whose internship was a culminating experience for a Bachelor of Science degree in Community Health at Western Washington University.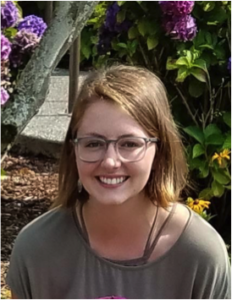 Amber worked alongside Common Threads Americorps Food Educators during our summer programs and camps, connecting kids to healthy food at Regency Park Apartments and at The Outback Farm. She also collaborated with our administrative team, designing weekly newsletters, managing social media, and preparing for our newly incoming AmeriCorps team.
Reflecting on her internship, Amber observed, "My service with Common Threads Farm helped me to enhance, connect, and solidify the skills I gained during school. Listening to lectures and being tested on the process of successful program planning and implementation pales in comparison to doing it in the real world. I was able to experience how cyclical and ever-improving this process is by practicing it each day."
Amber especially appreciated the opportunity to help kiddos have fun falling in love with healthy food. She remarked, "Being someone who genuinely enjoys interacting with kids, it was awesome to see this population be provided with ample opportunities to make healthy food choices, while also having a blast at camp."
Common Threads is extremely grateful for the opportunity to work with Amber, and to wish her the best as she enters the Community Health sphere!