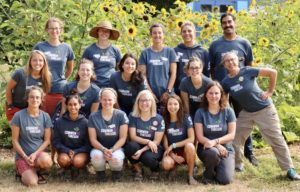 Common Threads is growing! Our largest Americorps team yet includes Food Educators and also School Farmers, serving collaboratively to ensure community-wide support for thriving school garden learning spaces, increased outreach to families, after-school programs, and inter-agency partnerships.
Find out who's connecting kids to healthy food at a site near you! (click a link to read a bio~!) –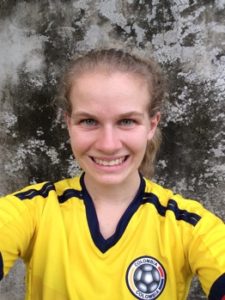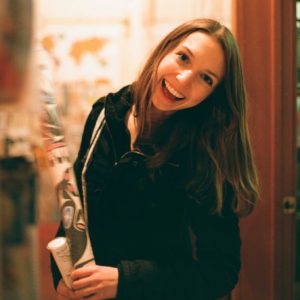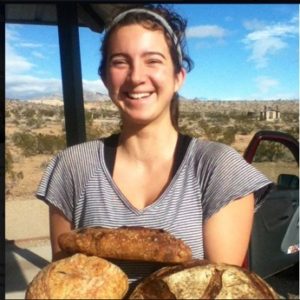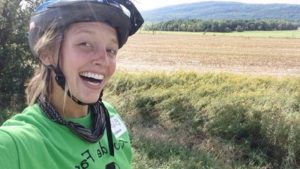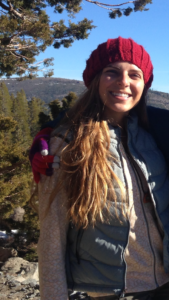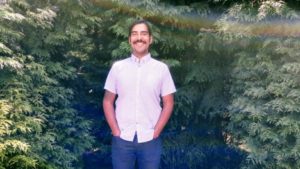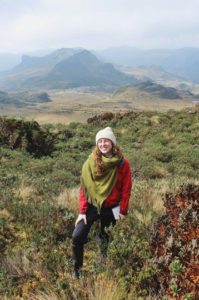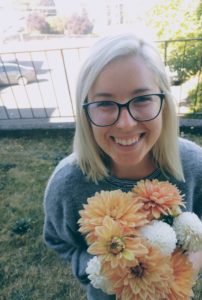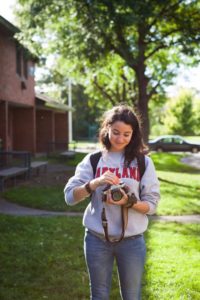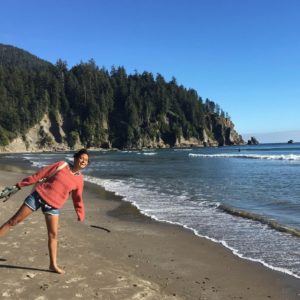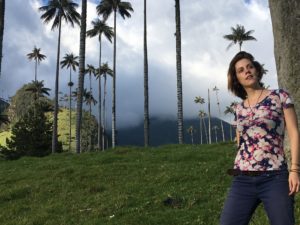 Alyssa Stewart, AmeriCorps School Farmer at Birchwood Elementary
After graduating with a degree in Ecology and Evolutionary Biology from the University of Colorado, Alyssa transplanted to Montana. There, she practiced living sustainably in a small space while working a variety of seasonal jobs, including trail work with a Conservation Corps and wildlife work for the Forest Service. After a particularly cold winter spent at a ski area in North Idaho she decided to move to Kauai, where she spent six months volunteering on an organic farm. Alyssa fell in love with farming and has since spent time on farms in New Mexico and Oregon. She is excited to join the Common Threads team and share the joy of gardening with the next generation.  When she's not in a garden, you may find Alyssa reading in her hammock, backpacking, or hunting for various natural objects (raptor feathers, antler sheds, seashells, and sharks teeth are her favorites)!
Amy Blom, AmeriCorps Food Educator at Silver Beach Elementary and Parkview Elementary
Amy grew up in Marietta, Georgia and cultivated a passion for gardening in her family's small backyard plot.  She studied biology and urban studies at Wheaton College outside of Chicago.  During college, she was able to participate in experiential learning programs in Chicago and in Colombia that helped her appreciate how malfunctioning food systems lead to poor nutrition and health issues in both urban and rural contexts.  Amy is excited to work as a food educator for Common Threads, teaching kids about sustainability, food production, and nutrition and learning more about these topics herself.  When not working, you might find Amy exploring local trails by foot or bike, tucked in a coffee shop drawing, or in the kitchen attempting to create a new black bean cake recipe.
Angela Moran, AmeriCorps Food Educator at Happy Valley Elementary and Northern Heights Elementary
Angela is a Pacific Northwest native who recently graduated from Seattle University with a Bachelor of Science in Marine and Conservation Biology. She believes food can be used as a powerful tool to help foster connections in three ways: with the environment by learning about the biological processes that cultivate our plates; with others through sharing time and food during meals; and with one's self by providing and preparing the necessary nutrients to thrive. Angela has been inspired by works such as Barbara Kingsolver's Animal, Vegetable, Miracle and Scott Jurek's Eat and Run. Her curious and adventurous nature have led her to become an experimental chef, voracious reader, and avid runner.
Anna Beebe, AmeriCorps School Farmer at Whatcom Middle
Anna was born in Kingston, Washington, and spent much of her youth in Curacao, Argentina and the Czech Republic. She came back to the United States to attend college at the University of Washington and earned a B.S. in Public Health. Anna's passion for health, nutrition and cooking transformed and grew especially after becoming a full season UW farm student staff member. A Mary Gates Leadership Scholarship helped to fund her work to connect food systems education and recreation programming on campus. Her leadership on and off the farm aims to build community and a sense of place through engagement with food systems. Anna hopes to teach and inspire kids to connect the dots between what is on their plate and individual, community, and environmental health.
Blair Sando, AmeriCorps School Farmer at Sunnyland Elementary
Blair is part of a big family raised in small-town Ohio. After studying International Development and Horticulture at the Ohio State University, Blair farmed her way through South Carolina, Nepal and Vermont. Her love of teaching comes from time spent at Community Refugee and Immigration Services in Columbus, Ohio where she led English and employment classes. Blair confirmed her passion for sustainable agriculture while exploring the food systems of the Low-country. When her hands aren't in the dirt, Blair loves to eat good food, travel, read, and go camping with her dogs, Tupelo and Doug.
Bree Farmer, AmeriCorps Food Educator at Acme Elementary and Harmony Elementary
Bree grew up in the high desert of the Southwest and is eager to make a new life for herself in the forests of the Northwest. She started delving into sustainable food systems including food security and waste at Arizona State University where she majored in Business and Sustainability. Establishing a farm to fork program at an elementary school district and new food pantries for her university gave her experience for ways to improve the equity of our system and environment. Bree is passionate about nature and outdoor sports. Bellingham is a great place to take advantage of some of her favorites.
Carlos Morales, AmeriCorps Food Educator at Alderwood Elementary
Carlos was raised in Columbia, SC.  He first fell in love with the outdoors as a Boyscout. Carlos studied audio engineering at Full Sail University in Orlando, Florida and worked in the service industry for 10 years. Working on numerous types of cuisines over the years sparked his interest in food, and when he opened his own restaurant in Atlanta, Georgia, he was introduced to the local food community. Meeting people from many different countries, Carlos quickly gained an immense passion for feeding the community with local, sustainable ingredients inspired by recipes from all around the world. He is especially excited to share his love for food with the future generations. Carlos enjoys composing music, hiking, and camping and is looking forward to furthering his education in agriculture and sustainability. ​
Claire Engelen, AmeriCorps Food Educator at Geneva Elementary and Cascadia Elementary
Claire grew up in Minneapolis, MN and is a recent grad from the University of Wisconsin – Madison with a Bachelor's degree in Conservation Biology, Environmental Studies and Spanish. As an undergrad, she worked in one of the university's many greenhouses and discovered her love for getting her hands dirty and working with plants. Claire has worked as a horticulturist intern for a local botanical garden in Madison and is excited to direct her attention to more food based gardening and learn more about sustainable agriculture in action. In her free time, Claire loves biking, reading horror novels and trying new food.
Clara Vannice, AmeriCorps Food Educator at Cordata Elementary and Columbia Elementary
Clara was born and raised in Olympia, Washington where her love and respect for the environment was cultivated early on through the example of her mom. Clara spent her childhood summers and vacations on her grandparent's farm in rural Eastern Washington where she developed a romantic love for farm life and appreciation for all of nature's gifts from her grandfather. In 2013, Clara left her Olympia home and began studying Urban Horticulture and Non Profit Management at Western Washington University's Fairhaven College of Interdisciplinary Studies. Clara's degree allowed her to spend time learning at various farms in the Bellingham area, to volunteer at an aquaponics greenhouse in San Antonio Del Mar, Mexico, and to intern in the Common Threads office! In June of 2017, Clara graduated Western Washington University with her Bachelor of Arts and a minor in Sustainability Studies. In her free time, Clara loves to drink coffee on her porch, watch movies, go for walks, and care for her plant babies.
Gabriella Mednick, AmeriCorps Food Educator at Carl Cozier Elementary
Gabriella is a recent graduate of Syracuse University, where she majored in International Relations and Citizenship & Civic Engagement. With her second major, she studied political ecology and community food systems. With the goal of reducing fresh food waste and hunger in her Central New York community, Gabriella established a university-based gleaning program in collaboration with the local food bank and CNY farms. In addition to her passion for food justice, ugly produce, and nutrition, Gabriella is an artist who aspires to use photography as a tool to document ecological and food system issues. She is beyond excited to be joining the Bellingham community, and for the opportunity to share her knowledge of food as a Common Threads service member.
Marit Olson, AmeriCorps Food Educator at Lowell Elementary and Kulshan Middle
Marit Olson was born and raised in Montana and studied Sociology (among other things) at the University of Montana. Prior to coming to Common Threads, she spent a year serving with Jesuit Volunteer Corps Northwest in Woodburn Oregon with After School and Summer Programs. In her free time she likes to listen to and play music, explore the great outdoors, dig in the dirt, swing dance, toss a frisbee, or contemplate the meanings of life. She is excited to be serving as a Food Educator with Common Threads this year.
Priyanka Anand, AmeriCorps Outreach Coordinator
Priyanka graduated from the Fashion Institute of Technology in New York City with a degree in Advertising + Marketing Communications. She was born and raised in Eastern North Carolina by a family who appreciates delicious, home-cooked meals. That, plus volunteer experience with Edible Schoolyard NYC, led her to work in food education, serving as a Food Educator with Common Threads during the 2016-2017 school year. Priyanka is thrilled to return to the organization in a supportive role, and looks forward to continuing and building on her work from last year!
Rebeca Bonilla-Myers, AmeriCorps Food Educator at Roosevelt Elementary and Assumption Catholic
Rebeca first fell in love with the outdoors as a child growing up in Santa Cruz California. She loved climbing trees, playing in the mud and scouting out samples at the local farmer's market. In college she channeled that love of dirty hands and organic produce into work in her college garden co-op. Her love of gardening, permaculture and sustainability has only grown from there. Rebeca is joining the Common Threads team after a year teaching English with public school students in Colombia. While in Colombia, she helped create an environmental awareness group at her school – educating students about nutrition, leading nature hikes, and volunteering with local community huertos. She believes strongly in the educational power of gardens, and is very excited to be joining the Common Threads crew in Bellingham!