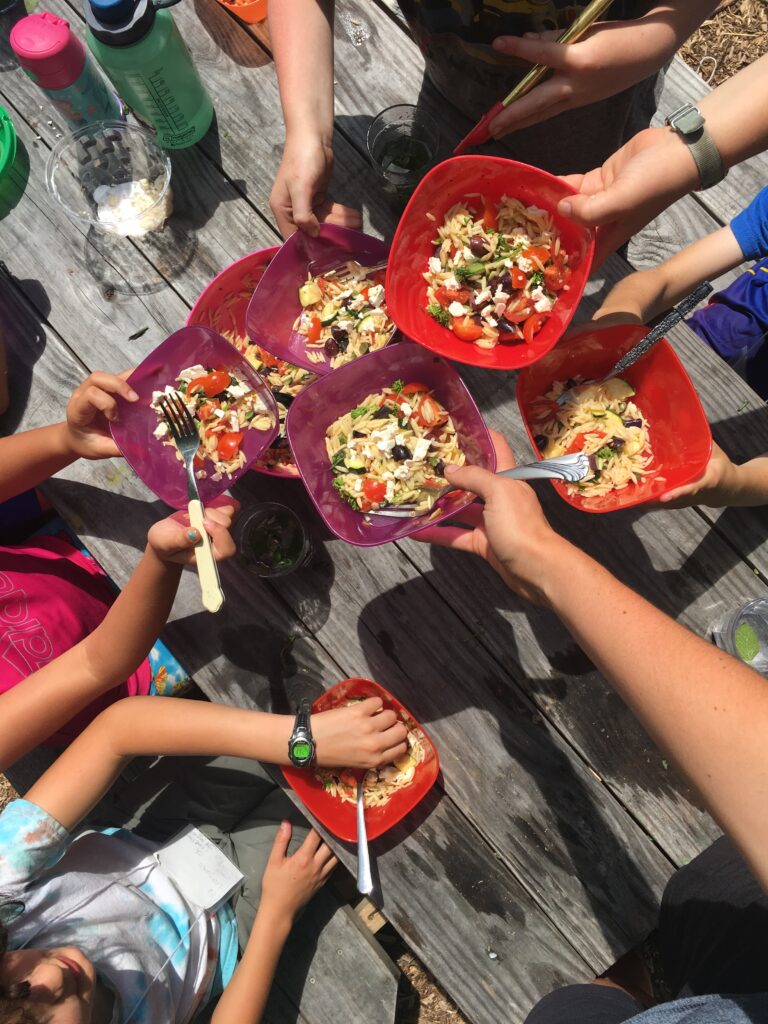 This recipe requires a heat source
Recommended materials: Saucepan, large bowl, small bowl, knife, cutting board, measuring spoons (or one big spoon and one small spoon), measuring cups.
Ingredients:
⅓ cup olive oil

3 TBSP lemon juice, or juice of 2 lemons

1 clove garlic (minced)

Salt and pepper, to taste

12 oz orzo pasta (cooked)

1 15 oz can chickpeas or another bean (drained)

3 cups grape or cherry tomatoes (cut in half)

1 ½ cups pitted kalamata olives (cut in half)

1 ½ cups crumbled feta cheese, plus more for topping (optional)

3 TBSP fresh herbs – parsley, mint, basil, and chives all work! (finely chopped)
Directions:
Wash hands.

For the dressing: in a jar or bowl, mix together the olive oil, lemon juice, garlic, and a pinch of salt and pepper until totally combined.

For the salad: Bring a pot of water to a boil and cook the orzo according to the package directions. Drain and let cool.

Place the orzo, chickpeas or beans, tomatoes, olives, feta, and fresh herbs in a large mixing bowl and pour the dressing over the top. 

Stir to combine and taste, add salt and pepper as needed. 

Refrigerate 1 hour before serving. 

Garnish with more feta and fresh herbs. 

Enjoy!