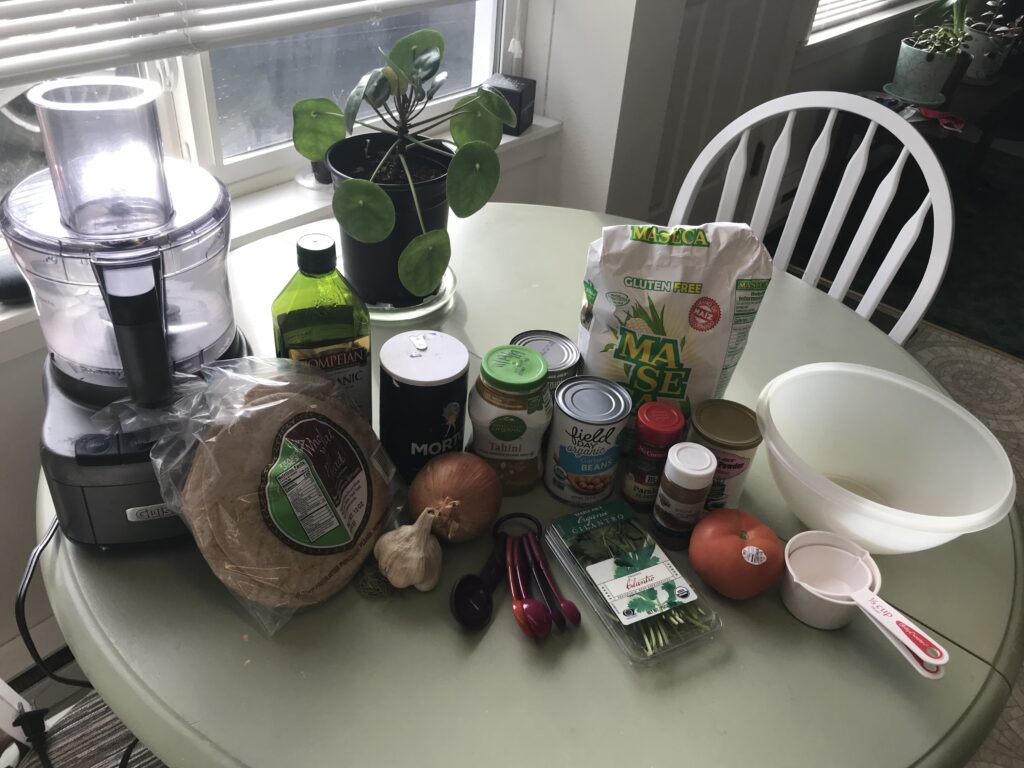 This recipe requires the use of a food processor or blender and a heat source
Recommended materials: Food processor or blender, skillet, large bowl, knife, cutting board, measuring spoons (or one big spoon and one small spoon), measuring cups.
This recipe makes roughly 12-15 3-inch sized falafels.
Ingredients:
2 15 oz. cans of chickpeas

½ large onion (roughly chopped)

4-5 TBSP fresh parsley (finely chopped)

4-5 TBSP fresh cilantro (finely chopped)

1 tsp salt

2-4 cloves of garlic

1 tsp cumin

1 tsp baking powder

4-6 TBSP flour (oat flour or masa to keep them gluten-free)

Olive oil

Tomato, for garnish (chopped)

Lettuce, for garnish 

Cucumber, for garnish (sliced or chopped)

Tahini, for dressing

Pita bread
Directions:
Wash hands.

Add drained chickpeas, onions, parsley, cilantro, salt, garlic, and cumin to the bowl of a food processor or blender. Process until blended but still a little chunky.

Sprinkle in the baking powder and 4 tablespoons of the flour, and pulse. Add more flour, a little at a time so that the dough forms a small ball and no longer sticks to your hands. 

Move mixture into a bowl and refrigerate, covered, for several hours (optional.)

Form the chickpea mixture into balls about the size of walnuts, flatten slightly and brush each side with olive oil. Grill over medium heat until browned on both sides. These typically take about 10-15 minutes to cook.

Serve 3-4 falafel on a pita with tomato, lettuce, cucumber, and tahini dressing.

Enjoy!