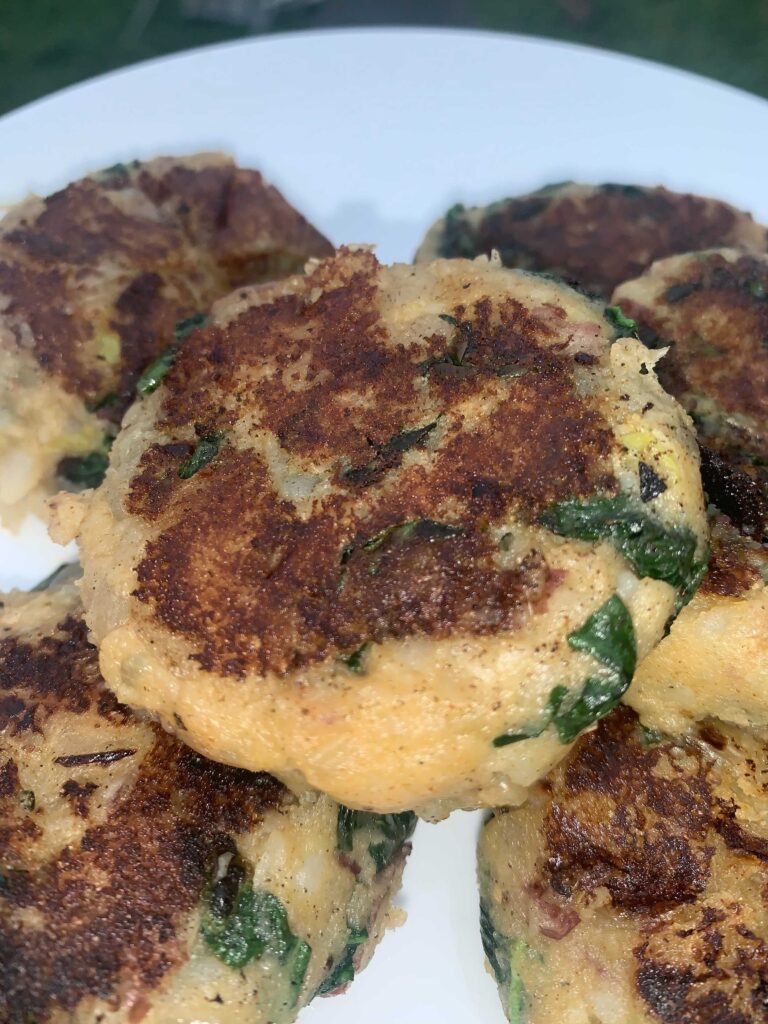 This recipe requires a heat source
Recommended materials: Large saucepan, large bowl, skillet, knife, cutting board, measuring spoons (or one big spoon and one small spoon), one fourth measuring cup, masher (or fork).
This recipe makes roughly 10 3-inch sized cakes.
Ingredients:
2 medium potatoes (cut in half)

¼ cup milk

2 TBSP olive oil

½ medium onion (finely-chopped)

1 clove garlic (minced)

3 leaves kale (de-stemmed by pulling leaves away from stem)

½ tsp salt

½ tsp thyme

½ tsp paprika (optional)

½ tsp pepper (optional)
Directions:
Wash hands.

Cook potatoes in a large saucepan of boiling salted water until tender, about 25 minutes. 

Drain, then return potatoes to the same saucepan. Add milk. 

Mash potatoes (with peel) until smooth – this can be done using a potato masher or fork.

Transfer to a large bowl and set aside.

Heat 1 TBSP oil in a large, deep skillet over medium heat. Add onion and garlic. Sauté until the onion softens. 

Add kale, thyme and paprika (optional) and cook until kale wilts.

Combine kale mixture and potatoes. Add salt and pepper to taste. Cool potato mixture.

Shape potato mixture by 1/4 cupfuls into 1/2 in thick patties. 

Heat 1 TBSP oil in a large nonstick skillet over medium-high heat. Add cakes and cook, without moving, until cakes are brown and crispy on bottom, about 3-4 minutes. 

Carefully turn cakes over. Cook until brown on bottom, about 2-3 minutes longer. 

Transfer to plates.

Enjoy!