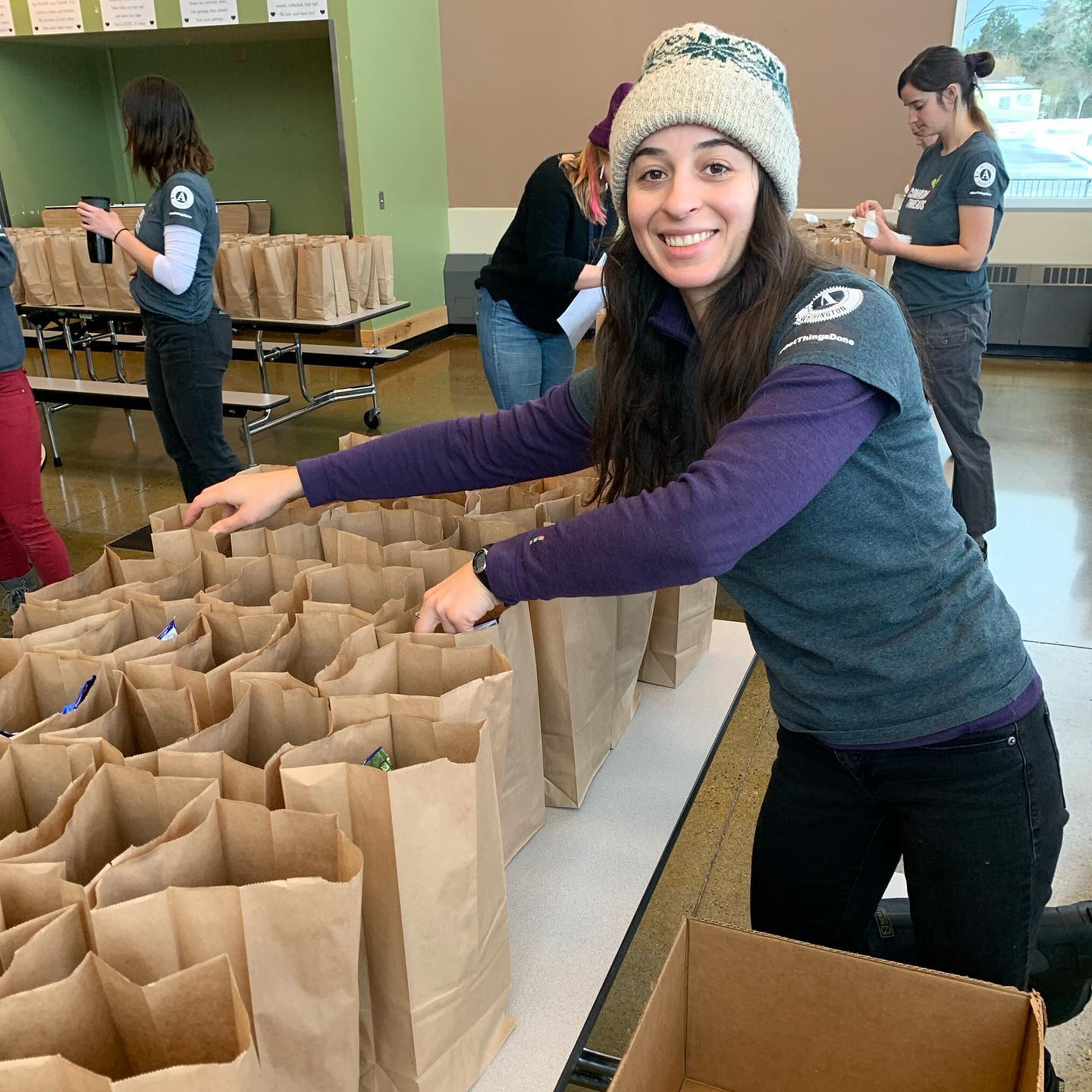 Written by Kiana Jenkins, AmeriCorps Food Educator
Bellingham, WA may not appear to be the most likely location to collect snow. However, earlier this month, Bellingham was rocked with ice and almost a foot of snow, which caused many schools to close down during this slippery time. For many families, that meant putting on warm clothes, grabbing whatever item that could be configured as a sled, and stacking up large balls of snow for that perfect snowman.
This picturesque scene was not true for all communities in Bellingham. For many students, school is the place where some of their basic needs are met. One of these basic human needs is the daily lunch that students receive at school. Despite no school for four days, students who rely on these meals were able to enjoy the snow with full bellies.
Common Threads AmeriCorps Food Educators helped Bellingham Public Schools' Central Kitchen deliver 1311 meals in just two days!
Together, about 30 individuals came together at Shuksan Middle School to prep, pack, and deliver various snacks paired with burgers and soup. Then five teams spread out to different low-income neighborhoods and apartment complexes to deliver a nutritious lunch for students and their families.
My team went to Eliza Court, where we walked from doorstep to doorstep searching for students who attend local elementary schools. Teachers and administrators from Birchwood Elementary also met us at Eliza Court to help identify students and deliver meals. As we went door-to-door, we found many students soaking up some extra hours of sleep while others were prancing around in the snow. Some students joined us on our adventure of service. Job, a fifth grade student, was our very own "tour guide" to help navigate the park, connect with fellow peers, and deliver delicious meals.
With every open door, we came face to face with smiling, grateful students and parents. Teachers received loving hugs from their students and pure excitement to see familiar faces from school. A favorite moment of Birchwoods' teacher, Mrs. Smith, was being invited to meet Luis and Ceasars' new baby twin sisters. These two students were able to eat lunch from the comfort of their own home as their baby sisters were bundled and snuggled up next to them.
My personal highlight was hearing the loud laughter of a few kids getting pulled in the snow. An older cousin and young sibling were dragging two other siblings around and around in the basketball court. The joyous screams continued throughout the mid morning until we offered all the kids some warm lunches.
Although it may not have been a picturesque snow day for some, it certainly was a dream come true to fully immerse ourselves in the communities we serve everyday. Building connections and community while helping to fulfill a basic need was by far the highlight of the recent snow days.  We feel extremely grateful to have played a role in this!