As usual, summer went by in a blur! As we gear up for another school year of gardening and cooking with kids, here's a quick glance back at the summer.
Camps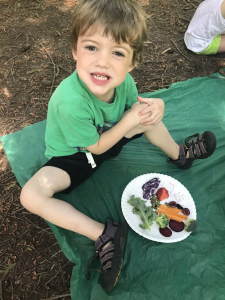 Over 140 kids explored, made new friends and prepared healthy snacks during camps at the Outback Farm at WWU.  Check out the snacks we prepared on our recipes page! The older kids also enjoyed a number of field trips to learn more about where our food comes from. Thanks so much to the Community Food Co-op, Drizzle, Bellingham Pasta Company, Smith Gardens, Goat Mountain Pizza, Bellingham Food Bank, NSEA, and Village Books for providing these opportunities.
We believe strongly in making sure that our camps are accessible to all kids – and were glad to offer need based scholarships to 34 kids.  This is what some of our scholarship-supported families had to say:
"My three-year-old and seven year old attended a week of camp on a generous scholarship from Common Threads donors. This experience was the first summer camp for my daughter and was so empowering and enriching for her. She thrived with this new independence, she felt included in a group like her older brother, and enjoyed every experience at camp. It was a relief to have the scholarship at a time when we entered the busy summer with one parent being unemployed for the previous three months. We were able to provide some normalcy and fun for our children despite this setback thanks to the generous community we live in. We will be paying it forward. Thank you!"
"My child had a great time at Farm Camp… each day he came home grubby and tired and so, so happy. He usually came home with pocketfuls of herbs from the edible forest, and couldn't wait to explain each one to us. He says the best part of Farm Camp was helping to cook the meals, especially the veggie sushi. He can't wait for next summer! Thanks again. Without the scholarship we would not have been able to give him that experience. He truly had a wonderful time."
Other Summer programs
Another way that we express our commitment to serving all kids, is by paying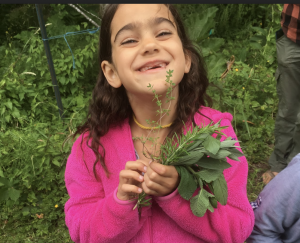 attention to when it makes more sense for us to come to the kids, rather than asking them to come to us.
During the first half of summer, Food Educators traveled weekly to the East Whatcom Regional Resource Center (EWRRC) to offer cooking and gardening lessons during their Kidz Days camp programs. Lessons emphasized building community while empowering kids to use tools to cook for themselves and others. The lessons also focused on learning about other cultures through food, such as Russian, Nigerian, and Ukrainian dishes.
Common Threads also partnered with Regency Park Apartments to hold weekly cooking sessions.  Every week of the summer program focused on a different country. The kids cooked food from Latin America, Italy, India, Pakistan, and China, and learned a little bit about each country as they cooked and discussed how each aspect of the dish reflected the country.
Gardens
It was a hot and smoky summer.  THANK YOU summer garden care volunteers for keeping the gardens watered and weeded!