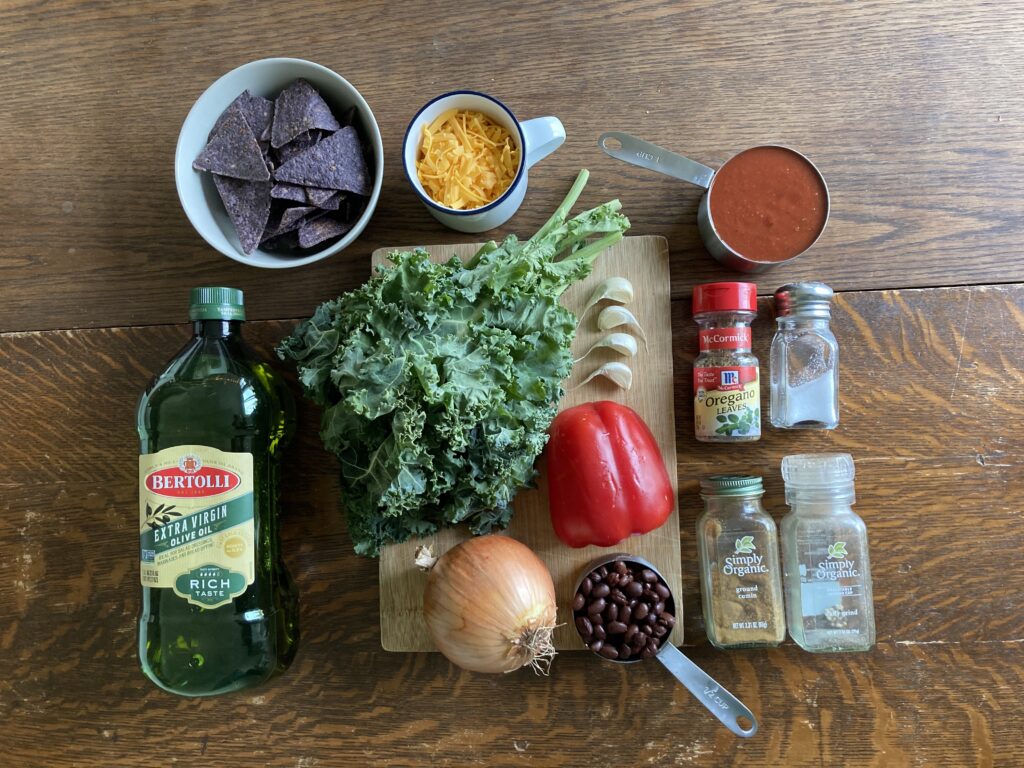 This recipe requires a heat source
Recommended materials: Skillet, grater, knife, cutting board, measuring spoons (or one big spoon and one small spoon), measuring cups.
This recipe makes roughly 4 bowls of taco salad.
Ingredients:
20 leaves of kale, cabbage, lettuce, or another leafy green (ripped into small pieces)

Olive oil

1 medium onion (diced)

½  bell pepper (diced)

4 cloves garlic (minced)

½ tsp oregano

½ tsp cumin

1 tsp salt

¼ tsp black pepper

½ cup black beans

1 cup tomato sauce

1 cup grated cheese (optional)

1 cup tortilla chips (optional)
Directions: 
Wash hands.

 Head oil in a skillet over medium heat. Add diced onion, garlic, and bell pepper and sauté for about 5 minutes, or until soft.

Add spices and sauté another minute or so, until fragrant.

Add beans and tomato sauce and simmer for 5-10 minutes.

Meanwhile, wash and rip up leaves, grate the cheese, and crush your tortilla chips, if using.

To assemble, put the bean and tomato mixture on top of a bed of leaves and sprinkle with chips and cheese.

Enjoy!