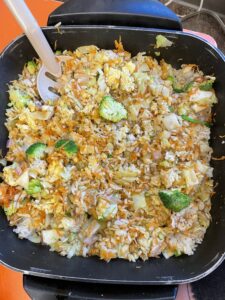 Ingredients:
● 1 tablespoon olive oil
● 1-2 cloves garlic
● 2-2 1/2 cups mixed vegetables (chopped broccoli, shredded
carrots, shredded kale, peas, etc.)
● 3 cups cooked brown rice
● 2-3 eggs
● 3 Tbsp soy sauce or tamari (add up to 1 Tbsp more if you use tofu)
● Green onion for garnish (optional)
Also optional: Add 8 oz of tofu to up the protein content! If you do this, don't forget to add a little more soy sauce to taste
*** Almost any veggies you have can work!
Directions
Wash Hands.
Heat oil in skillet on medium.

If using, cut tofu into ½ inch cubes and s

auté until lightly browned.

Saute garlic briefly.

Add vegetables and sauté for 2 minutes.

Add cooked rice and mix well. 

Make a hole in the center of rice.  Crack eggs into it and scramble in the center.  Once scrambled, stir eggs into the rest of the rice mixture.

Add soy sauce/tamari and mix well to combine.  

Garnish with green onion. Serve and enjoy!