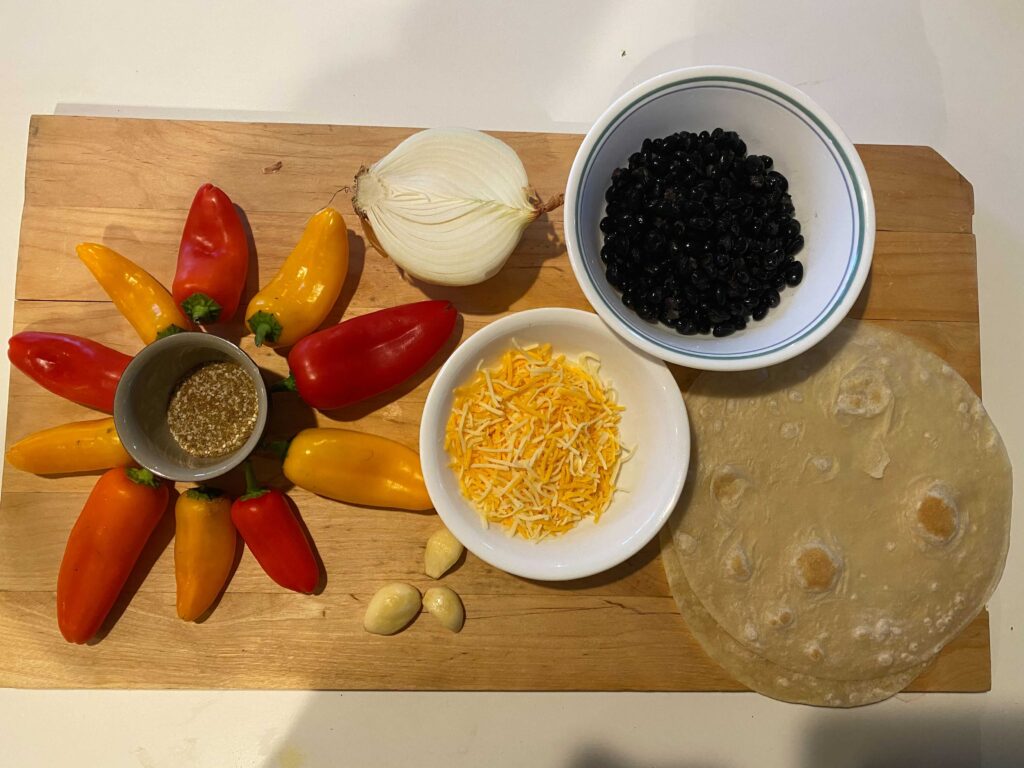 This recipe requires a heat source
Recommended materials: Baking sheet, large bowl, knife, cutting board, measuring spoons (or one big spoon and one small spoon), measuring cups.
This recipe makes roughly 4 quesadillas, using medium sized tortillas.
Ingredients: 
2 ⅔ cup cheese that melts well, ie cheddar/mozzarella (shredded)

½ medium onion (finely chopped)

3-4 cloves of garlic (minced)

1 bell pepper (diced)

14 oz can black beans

1 cup of corn

⅓ cup cilantro (finely chopped)

½ tsp cumin

Pinch of salt

1 TBSP olive oil

Tortillas (optional to make your own with 2 cups corn masa)
Directions: 
Wash hands.

Preheat oven to 350 degrees F°

In a large mixing bowl, add black beans, corn, peppers, garlic, cilantro, onions, cumin, salt, and olive oil. Stir well to combine. 

To build each quesadilla: on half of each tortilla sprinkle shredded cheese and spread some of the veggie mixture. Fold the other half of the tortilla on top pressing on it somewhat gently-hard making a half moon shape. Repeat with each tortilla.

Bake for 20 min or until the cheese has melted. 

Remove from the oven and cut into thirds. Top with your favorite toppings!

Enjoy!
Optional – Homemade Tortillas:
Wash hands.

Combine 4 cups of corn masa flour with 3 cups of water. Mix thoroughly for two minutes to form a soft dough.

Roll into small balls (a little smaller than a golf ball).

Line tortilla press with wax paper on both sides. Press dough balls, one at a time. Each ball will form a 5 inch diameter tortilla.

Heat skillet on medium-high heat. Cook each tortilla for 30 seconds on each side, turning the tortilla 3 times. Keep tortillas warm, wrapped in a towel.