Daniel began volunteering with Common Threads as an intern through the Human Services Program at Western Washington University. Excited about empowering students to make informed decisions about food choices, Daniel volunteered with Common Threads camps at The Outback Farm last summer. From Farm Camp to Camp Pizza, from Camp Pasta to Food Investigators, Daniel contributed to connecting kids to healthy food through hands-on knowledge, skills and experience.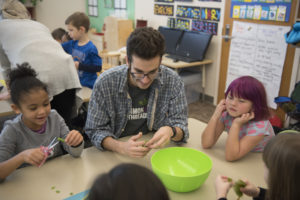 Daniel had so much fun interning that he's stayed with us as a volunteer for school gardening and cooking. As the seasons have changed, Daniel has loved watching students grow in their food knowledge, and apply skills from earlier Common Threads experiences to new lessons. He remains enthusiastic about eliminating barriers between students and healthier food. He especially enjoys providing students the opportunity to use their own knowledge and observations of their surroundings to make learning relevant.
Thank you Daniel for your continued dedication to growing healthy eaters!