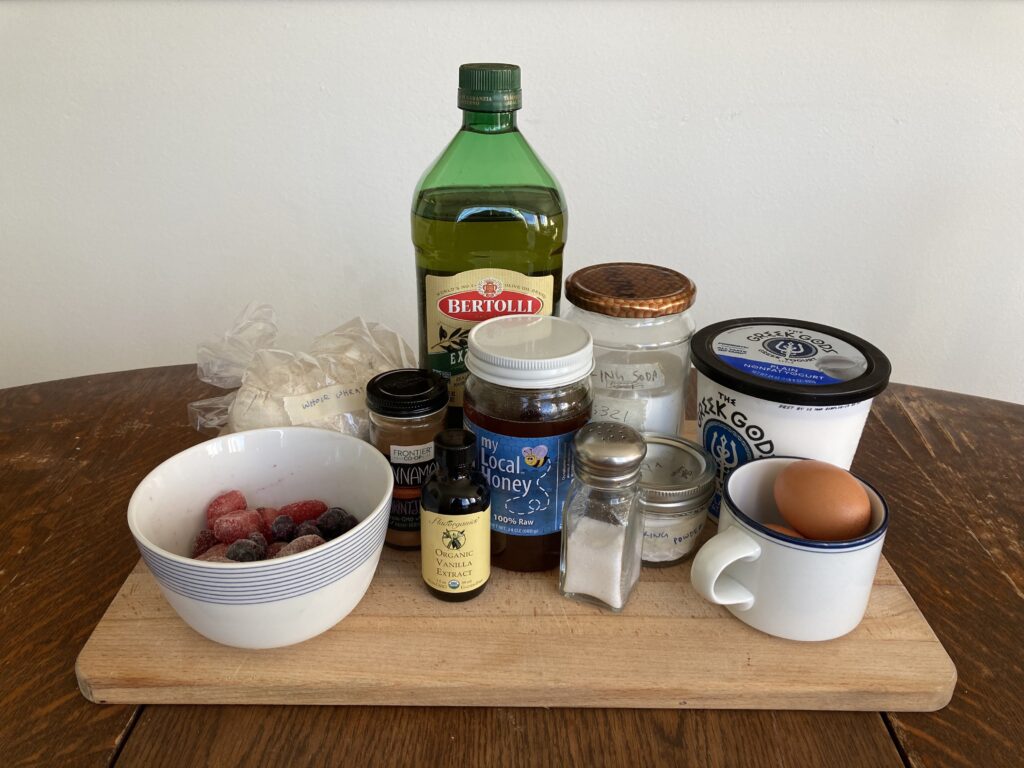 This recipe requires the use of an oven
Recommended materials: Muffin tin, large bowl, medium bowl, small bowl, whisk (or fork), large mixing spoon, measuring spoons (or one big spoon and one small spoon), measuring cups.
This recipe makes roughly 12 muffins.
Ingredients: 
1 ¾ cups whole wheat flour

1 tsp baking powder

½ tsp baking soda

½ tsp fine sea salt

¼ tsp ground cinnamon 

⅓ cup melted coconut oil or olive oil

½ cup honey or maple syrup

2 eggs

1 cup plain Greek yogurt

2 tsps vanilla extract

1 cup berries, fresh or frozen (your choice!)
Directions:
Wash hands. 

Preheat the oven to 400 F. If necessary, grease muffin tin with butter, coconut oil or cooking spray.

In a large mixing bowl, whisk together the baking powder, baking soda, salt and cinnamon. Set aside.

In a medium mixing bowl, combine the oil and honey or maple syrup, and whisk together. 

Add the eggs and beat well. Next, mix in the yogurt and vanilla. 

Combine the wet and dry ingredients by mixing well with a big spoon. 

In a small bowl, toss the berries with a pinch of flour and gently fold them into the batter. 

Divide the batter evenly between your muffin cups. 

Bake the muffins for 16 to 19 minutes, or until muffins are golden on top and a toothpick poked into a muffin comes out clean.

Place the muffin tin on a cooling rack to cool. If you have leftover muffins, store them, covered, at room temperature for 2 days, or in the refrigerator for up to 5 days. Freeze leftover muffins for up to 3 months.

Enjoy!