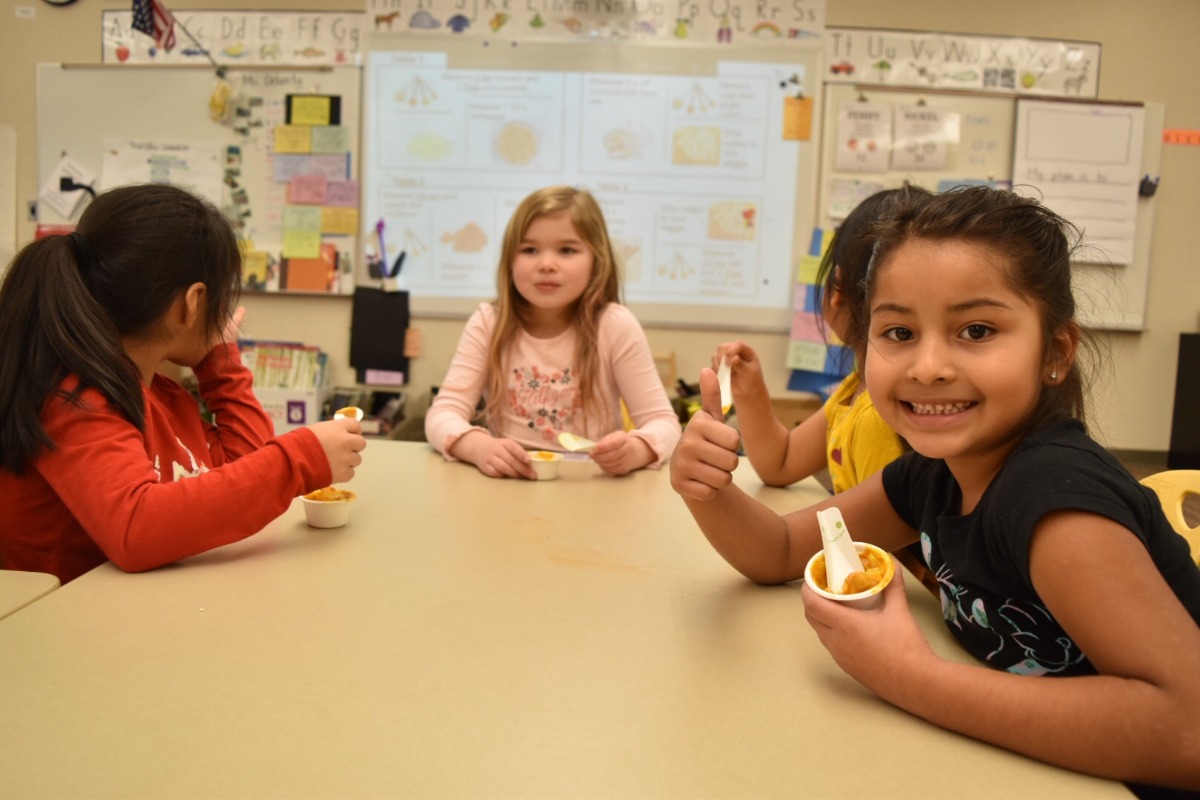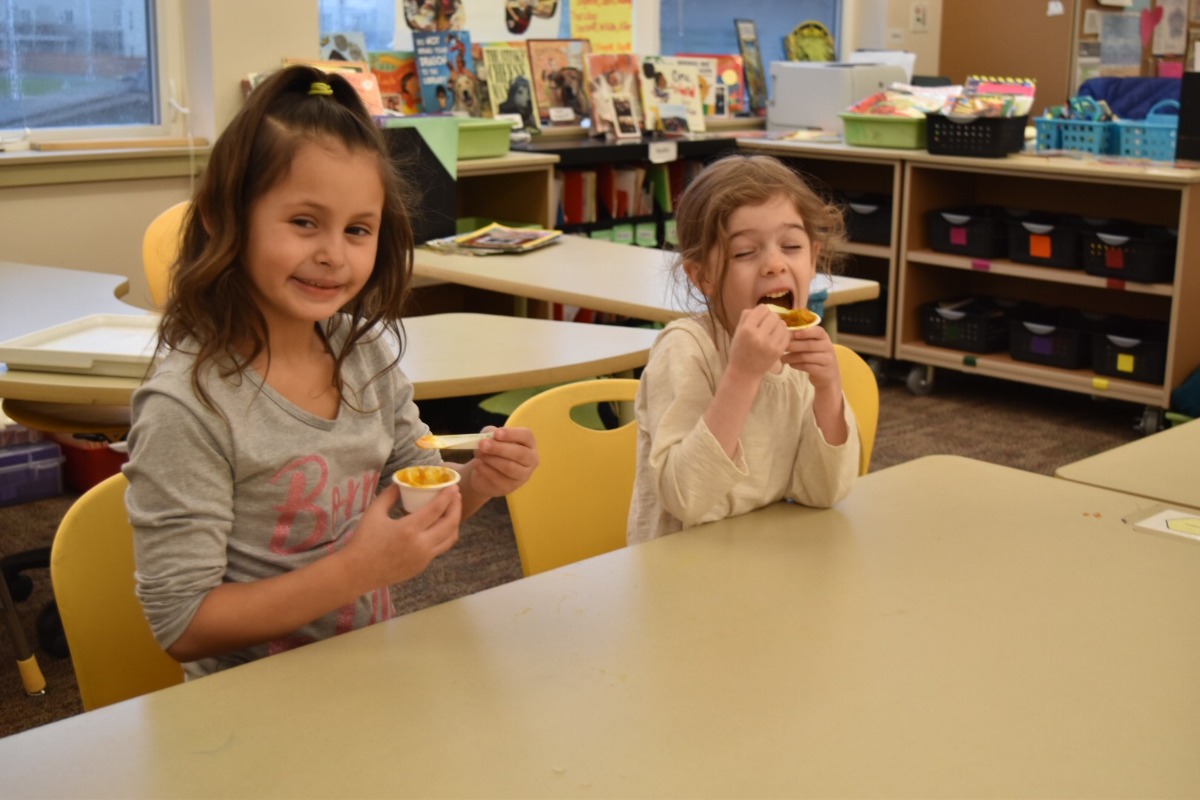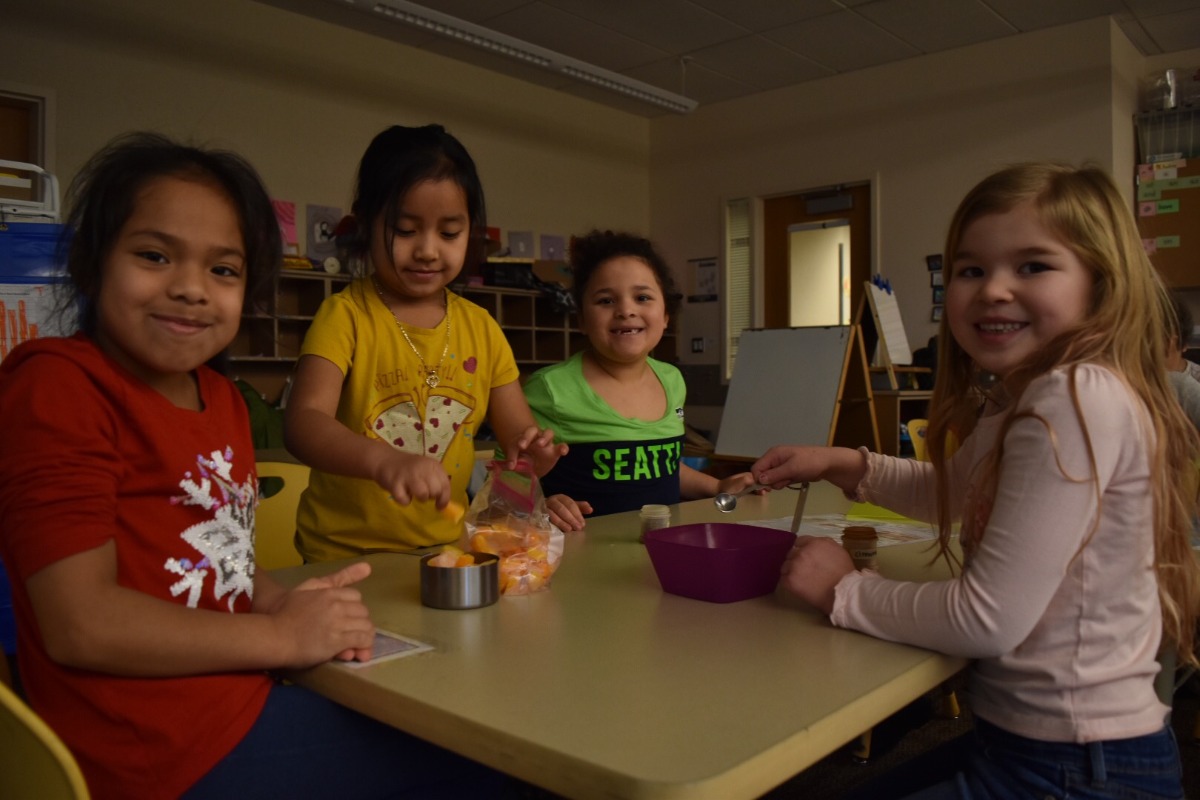 by Caroline Boschetto, AmeriCorps Food Educator
Food is perhaps one of the most beautiful expressions of connection. The creation of a delicious meal from diverse ingredients embodies connections between farmers and chefs, parents and children, cultures and their histories, and at its very core, humans to the land. In February, as students across Whatcom County learned to cook Chickpea Curry with Common Threads, they not only grew to love this tasty and nutritious dish, but they also made connections that will sustain their bodies, minds, and hearts into the future.
Of the flavorful ingredients used in this recipe – coconut milk, tomatoes, chickpeas, onions, garlic, potatoes, and loads of colorful spices – I was most excited about adding squash. The bright orange butternut squash was lovingly grown in Common Threads gardens by students who, after making this connection, beamed with excitement and pride. Seed to table experiences like this allow students to understand both the labor and beauty of cultivating food and preparing it to share as a class community.
Beyond continuing to learn knife techniques, skillet safety, and other cooking skills, students also gained an understanding of the origins of curry and the cultural components of this rich and diverse dish. Food educators explained that curry originated on the Indian subcontinent and that the recipe varies between countries, religious groups, and individual families. Some students with heritage from this region shared personal experiences of making and eating curry at home, bringing to life the cultural and familial connections so intertwined with the foods we eat and share.
A unique goal of Common Threads' cooking classes this year has also been to build connections between our recipes with those of Bellingham's central kitchen, inspiring students to try the delicious, nutrient-packed items on Bellingham's brand new menu. According to Cordata first grade teacher Aly Delanty, cooking menu items in the classroom seems to have done the trick. 
"For my students who are really picky, especially with the new school lunches, [cooking class] really helps them try new foods," she said. 
For many students, this "new food" was an absolute hit. Classes nearly always requested seconds and thirds until our skillets are scraped clean. "This is the yummiest food I've had in my whole entire life!" declared Cordata first grader Ryan Strickland.
As a Food Educator who has indulged in Chickpea Curry up to five times a day for weeks and still not grown tired of its rich flavor, I can attest to the genuine deliciousness of the dish. Nevertheless, I believe Ryan and his peers were drawn to more than just the flavor of this recipe; it was the experience and all of those beautiful connections that lit them up. I know, because they light me up too and fill me with gratitude everyday to be cooking, laughing, eating, and learning alongside Common Threads' spunky young chefs.