As prepared in the classroom during the 2017-2018 winter cooking series! Read all about it here, and download recipe cards below.
Serves 4-5
Ingredients:
5-6 medium potatoes
1 bunch leafy greens (chard or kale work well)
1 TBSP olive oil
4-5 garlic cloves, minced
1 tsp of cumin, turmeric, and pepper
2 tsp salt
4 cups of diced tomatoes (frozen, canned, or fresh)
Vegetable stock or water (as needed)
Directions:
Wash hands.

Wash potatoes and chop into small bite-sized cubes. It is not necessary to peel the skins – they contain valuable nutrients!

Rip leafy greens into bite-sized pieces.

Heat 1 TBSP of olive oil in a large pot over medium heat.

Add potatoes, garlic, cumin, turmeric, pepper, and salt. Sautée for 2 to 3 minutes.

Add tomatoes, and increase heat to medium-high until you reach  a boil. Then, reduce heat to medium-low, cover, and cook for 15 to 25 minutes, or until potatoes are tender. If the curry dries out while cooking, add a bit of vegetable stock or water.

Taste and adjust seasonings as desired. Serve with rice, yogurt, or naan (Indian flatbread). Enjoy!
❊ Note: Play with other ingredients! You can add chopped almonds, celery, feta, and so much more.
Downloadable recipe cards, in English and Spanish: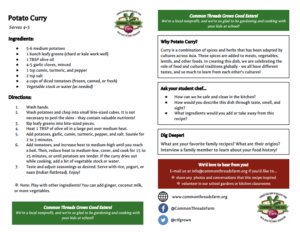 Potato Curry, Downloadable version, English