Curious Minds and Dirty Hands
Have you ever wondered what happens during an elementary school garden lesson with Common Threads? AmeriCorps Food Educators share a sneak peek into our some of our lessons this spring. This is a multi-part series, stay tuned for future lessons!
The second spring lesson (by Anya Vollstedt)
If you haven't already, read about the first spring garden lesson!

Spring is in full bloom in Bellingham and Common Threads educators are taking classes out to explore the new growth of plants in our garden, as well as the insects that live there.
During our second spring gardening classes, kindergarteners learned about which parts of different food crops we eat. Whether it is the roots of a carrot or the leaves of lettuce, we talked about how the plants we eat grow!
With the guide of a Common Threads educator, first graders learned the body parts of insects, and discovered each insect's special role in the garden. Some classes learned the difference between insects, arachnids, and bugs as they went on insect safaris to find out who lives in their school gardens. Second graders helped the garden transition from a winter garden to a spring garden by clearing weeds, adding compost, and planting radish seeds. "What does our radish need to grow?" asked a Common Threads food educator, "water, soil, sun, air, and space!," responded a second grade class.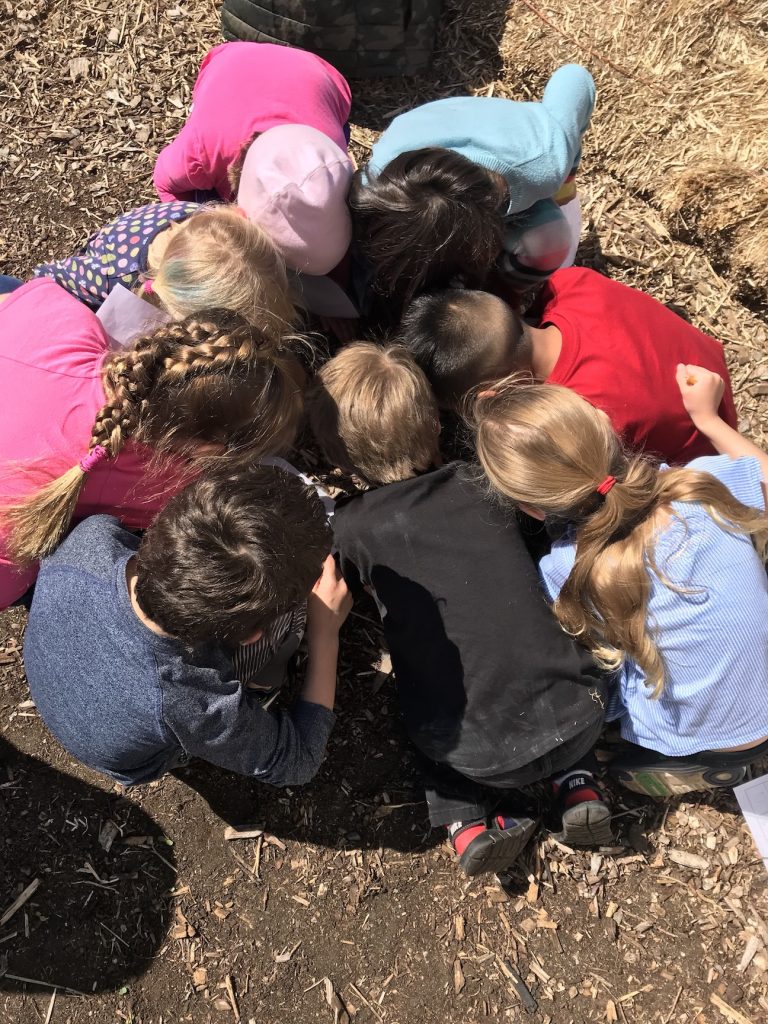 Speaking about what plants need to grow, let's zoom in to where a plant starts: the seeds! Third graders discovered the parts of a lima bean seed during seed dissections. The word "germinate," was introduced before food educators took third grade students to the garden to see if they pea seeds they planted earlier had germinated!
Some plants we grow in our school gardens are pre-germinated at our Hoop House located at Whatcom Middle School. This allows us to bring small starts to plant with students while avoiding the late frost dates here in Whatcom County. Fourth graders planted vegetable starts such as kale, broccoli, chard, cabbage and spinach. Students engaged in a conversation about climate change and how plants adapt to changing conditions and temperatures. With partner groups, fourth graders drew a "plant superhero": plants designed to withstand droughts, strong winds, long winters, or hot and dry summers!
Fifth graders took fractions out to the garden and learned how using math and planning a garden is the best way to utilize space in our school gardens! Students divided a garden bed into even segments, then planted lettuce starts with this newly gained knowledge.
Students of all ages tasted herbs and kale flowers from the garden, and are now waiting to taste the many seeds and vegetable starts we planted early spring!
Wonder what kids will be doing next in the garden? Read about it in part 3 of the series.