Guest blog post & photos by Lisa Moeschler
We'd had much discussion leading up to last Thursday's planned outing on a school night. "There'll be lots of kids," I had promised my seven-year-old, first grader… "along with fun activities, music, a live performance, and best of all—lots of yummy food from your school garden and other Bellingham school gardens that would be cooked by kids." Outings that promised food and kids in the same place scored big in our house, so we were all in. And as it turned out, the 9th Annual Common Threads School Garden Harvest Dinner offered so much more and didn't disappoint!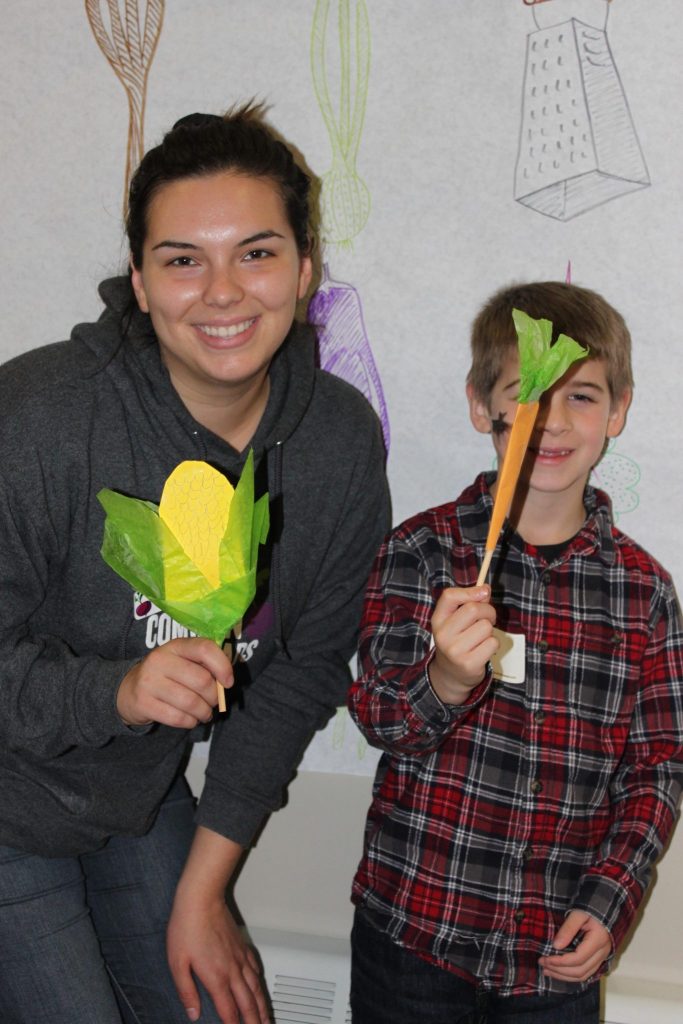 The rain shower we caught on the way in to Whatcom Middle School was a chilly reminder that Fall was upon us. However, we were instantly warmed by the welcoming smile of Miss Lindsey, our favorite food educator at Geneva Elementary. She greeted us from her post at check-in, where she was directing guests to fill out name tags inside the school's cafeteria. My kiddo spotted her right away, barely containing his visible excitement. Seeing a teacher outside of school is pretty much like a celebrity sighting, so seeing his "garden teacher" right at the front door would be hard to top! But thankfully, the venue was abuzz with activities too tempting for further delay, so we proceeded with all the evening had to offer—thanks to the hosts, volunteers and sponsors who made all the fun possible.
Our voices soon melded into the festive vibrancy of a room charged with the energy of live musicians and frenzied family engagement. We spotted an empty hay bale with a tic-tac-toe board marked off with black tape, so we grabbed the garlic and mini pumpkins that were set aside as game pieces and played until it was clear that others wanted to have as much fun as we were having. Not a problem, as we moved on to face painting, food-centric crafting, and the ever-popular photo booth without a second thought. It wasn't long before it was time for Community Food Co-op's The Real Food Show to begin so we followed the crowd to a lovely auditorium where we were seated in time to enjoy the live performance. We laughed, shouted out queued responses, clapped, stomped, wiggled in our seats and it was great because everyone around us was doing the same. (I'm always grateful for events where kids can be kids and being squirrely in public comes without fault or judgement!)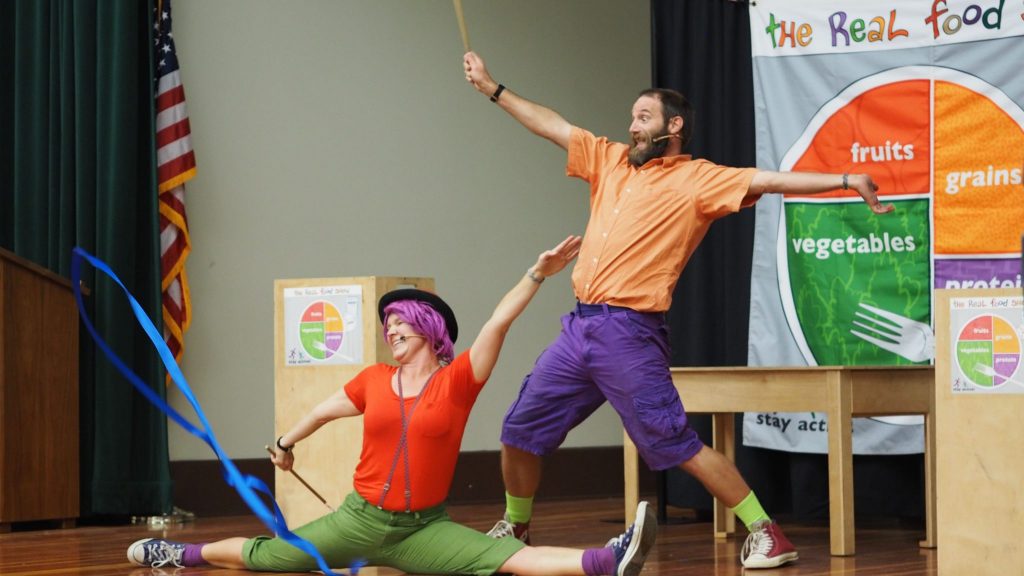 That said, upon a casual glance around the room, the kids (and adults) were completely captivated by the delightful and talented performers who, through their fast-paced dialogue and sheer physicality, were making food fun. Better yet—they were making learning about food and what it does for the body fun. And their messaging reinforced much of what we were trying to model in our own home… Eating fresh, locally sourced, nutrient-dense, organic food makes you feel better than eating processed foods wrapped in wasteful plastic that are full of sugar and have labels with ingredients that are hard to read, let alone pronounce. Somehow, the message sounded a lot more convincing coming from Frank and Beans, the performers who juggled, rode unicycles, and swung each other around like acrobats while they were hitting the key points of nutrition. In fact, I'm still using Beans' dramatic example of being laid out on a table from a sugar crash after eating a muffin, candy bar, and soda for breakfast. It's given me a great visual to work with when I'm asked for gummies instead of fruit or something "real" or without packaging for a snack. And when we sit down for meals, I've been asking my kiddo to tell me how his plate looks. After checking it over, he'll give us a "good" or "pretty good" rating based on the portions of protein, veggies, and grains. Not bad!
After the show, we were good and ready for the main event—a deliciously prepared meal that was both student-grown and cooked from Bellingham school gardens! The vegetarian menu included Roasted Root Vegetables, pureed Butternut Squash and Beet Soup, Kale Salad with sesame seeds and cranberries, and Apple Crisp with gluten and dairy-free options! I enjoyed every last bite and was thrilled that my kiddo was open to trying everything that was served. And after talking with a second-grader at our table, we concluded that it was probably just a matter of her matured palette that she was able to appreciate the smooth buttery texture of pureed butternut squash and beet soup more so than my first grader… Too funny! Never-the-less, we concurred adding to our table's discussions on what our dream lunch would be if we could pack anything we wanted—agreeing on grilled cheese sandwiches all around. Once we finished our meal, we thanked our Common Threads hosts and volunteers for a wonderful night.
Reflecting further now that a few days have passed since attending the dinner, I'm filled with gratitude for everything that Common Threads is doing within our schools and community to connect kids with healthy food. Whether they're working with our kids in their school gardens, teaching in-classroom cooking exercises, or hosting kids' supper clubs in vulnerable neighborhoods, Common Threads and Washington Service Corps members are empowering children with the knowledge and tools they need to make better choices about what they put in their bodies and how to prepare their food in healthful ways at home. Through their programs, I've seen first-hand how they've enriched my son's experience with gardening, the environment, his health, and reinforced our own excitement for "real food" at home. It truly takes a village to grow good eaters! Looking at the extensive list of sponsors and community supporters from the Common Threads annual report, I am reminded of what an exceptional "village" this is, and how fortunate my family is to be a part of it.